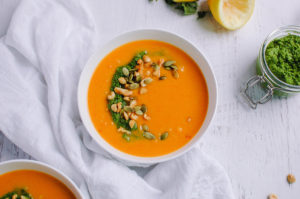 I get it, this recipe has a long title. I actually wanted to call it Spicy Sweet Potato Peanut Soup with Kale PUMPKIN SEED Pesto, but decided that was two words too long. But take note! This pesto uses kale and pumpkin seeds. How genius is that? Even though I can get fresh basil this time of year, that screams summer to me and I wanted to give you something different. But you know I love pesto! Check out this shrimp pesto pasta recipe for my "poor man's pesto," which uses almonds instead of pine nuts.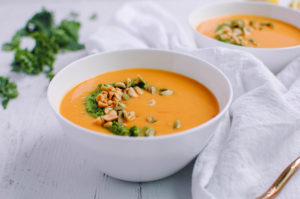 A few years ago, I was experimenting with pumpkin and sweet potato to make a soup and found that while this recipe doesn't have an overwhelming amount of ingredients, it's not as easy as I thought. Striking a balance of not being too sweet, or too thick, can be challenging. Adding peanut butter and some heat adds depth to the soup made of humble sweet potatoes.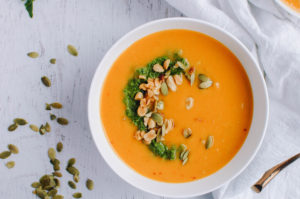 I also added peanut butter, because why not? The kale pumpkin seed pesto not only adds a great color accent, but it also adds a punch of flavor that the velvety soup pairs so well with. If you're not vegan, a little scoop of sour cream on top after serving is also delicious and balances out the spiciness of the soup.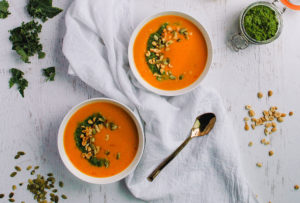 I do want to note that I highly recommend using baby kale for the pesto. Regular kale will work, but you'll find that the pesto is much more bitter. Also, if you don't have nutritional yeast, it's perfectly fine to leave it out. If you're not vegan you can add some Parmesan cheese. You do you!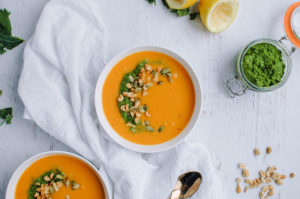 You may not even use all of the pesto for this soup, but there are so many ways to use pesto! On top of avocado toast or scrambled eggs, spread on a sandwich or a wrap, or with chicken or fish. Endless possibilities for a super versatile pesto!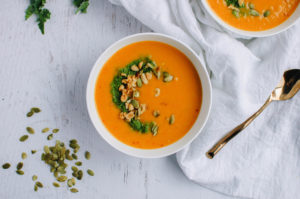 For my kiddos, I simply set some of the soup aside before adding the chili paste. If you don't have chili paste, Sriracha will make a great substitute! No matter how you customize this soup, it's sure to be a hit.

Spicy Sweet Potato Peanut Soup with Kale Pesto
Prep time:
Cook time:
Total time:
Ingredients
Soup
2 tbsp. olive oil
1 yellow onion, chopped
3 cloves garlic, minced
2 inch piece fresh ginger, grated or minced
1 stalk celery, chopped
1 large carrot, peeled and chopped
2 large sweet potatoes, peeled and chopped
¼ cup peanut butter (creamy, natural/no sugar added)
6 cups chicken broth
1 tsp. salt + more to taste
1 tbsp. chili paste (sambal oekek) or Sriracha
Kale Pesto
3 cups loosely packed baby kale
½ lemon, juiced
2 cloves garlic
⅓ cup pumpkin seeds
½ tsp. salt
¼ tsp. ground black pepper
2 tsp. nutritional yeast (optional)
¼ cup olive oil
Instructions
In a large pot, heat 2 tbsp. olive oil. Add onion, garlic, ginger, celery, and carrot and cook until onions are translucent.
Add sweet potatoes, chicken broth, salt, and peanut butter. Bring to a simmer and cook until sweet potatoes are tender.
Meanwhile, in a food processer, add kale, lemon juice, garlic, pumpkin seeds, salt, pepper, and nutritional yeast (if using). While blending together, drizzle olive oil in from the top. Taste and add more salt if desired.
When sweet potatoes are tender, blend soup using an immersion blender or in batches with a high-speed blender.
Return soup to pot and stir in chili paste or Sriracha. Stir and taste. Add more spice if you're feeling brave!
Serve soup topped with pesto and a dollop of sour cream, if desired.