I don't think I need to convince you that salads are usually a pretty healthy option. As long as you aren't loading them with cheese, unhealthy dressings, etc., they're generally going to be a healthy lunch or dinner option for you. I try to make a big salad for dinner at least once a week. Usually there's enough leftovers for either Kevin and I to have for lunch, it's super easy to make in advance, and takes very little time.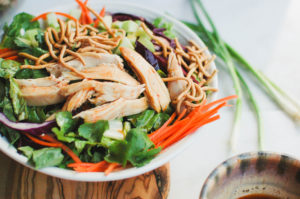 Like a lot of things though, I sometimes find myself getting into a rut with salads. Maybe the ingredients or the dressing are boring me, and I feel the need to change it up. Enter this sesame chicken salad. It has some pretty standard salad ingredients: lettuce, carrot, and red cabbage. What packs the punch is the fact that there's an entire bunch of cilantro mixed in with all of that, as well as green onion. It makes sure you get extra flavor in every bite.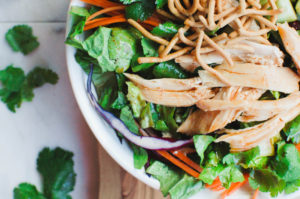 The dressing on this is also absolutely amazing. I tend to make my own salad dressings and love a good oil and vinegar based one, but this one packs a special punch. Sesame oil, soy sauce, and Sriracha sauce add a little heat and a lot of flavor to an already flavorful salad. Since I've never added extra hot sauce to my food, I basically keep Sriracha around just for salad dressings and it's been completely worth it.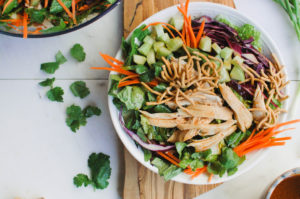 Mason jars are great to shake and store homemade dressings, and I love making mine in my blender bottle. It's all I use it for, but since I make homemade salad dressings at least once a week, it's been a great purchase.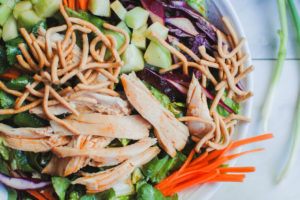 Whether you whip up this salad for lunch and make your co-workers jealous (hey, even my toddler was asking for a bite of this), or make it for a healthy dinner, put this sesame chicken salad on your meal plan!

Sesame Chicken Salad
Ingredients
1 head romaine lettuce, chopped
½ small red cabbage, thinly sliced and then roughly chopped
2 large carrots, peeled and julienned*
1 bunch of cilantro, leaves only, roughly chopped or torn
1 bunch green onions, sliced
1 cucumber, peeled, seeds removed, and chopped*
1½ cups cooked shredded chicken
¼ cup rice vinegar
¼ cup peanut oil
2 tbsp. sesame oil
3 tbsp. soy sauce
1 tbsp. honey
½ tsp. salt
¼ tsp. ground black pepper
½ tsp. garlic powder
¼ tsp. ground ginger
1 tbsp. Sriracha sauce
½ cup crunchy chow mein noodles (optional)
Instructions
In a large bowl, toss together lettuce, red cabbage carrots, cilantro, green onions, cucumber, and shredded chicken.
In a mason jar or shaker bottle, blend rice vinegar, peanut oil, sesame oil, soy sauce, honey, salt, pepper, garlic powder, ginger, and Sriracha sauce.
Pour dressing over salad and toss to coat (If not serving immediately, wait to toss with dressing unti serving).
Serve topped with chow mein noodles.
Enjoy!
Notes
*I love having a julienne tool for carrots. They look so pretty in salads like this and the tool is about the same size as a vegetable peeler. If you don't have one, you can simply keep peeling the carrots, chop them, or spiralize them and give them a rough chop to make them into bite-sized pieces.
*A regular spoon will do the trick to remove the seeds from cucumbers! Just cut in half lengthwise and scoop them out.