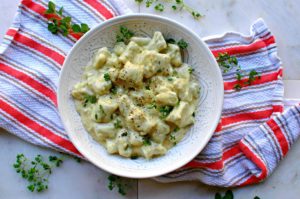 If I'm at an Italian restaurant where gnocchi is served, there's about a 99% chance that I'm going to order it. Ravioli is a close second depending on the filling. Making homemade pasta can be time-consuming, but I find it therapeutic with an delicious reward for a little work. Also, making gnocchi doesn't require any type of special equipment! Potatoes make this pasta a little more forgiving, making gnocchi the perfect first pasta if you're interested in delving into the homemade pasta world.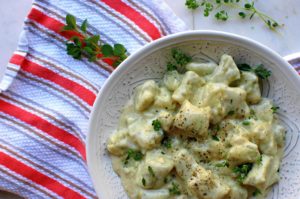 I have a delicious summer gnocchi recipe as well, but sadly corn and tomato season is dying down. The herbs in my garden are still surviving until it dips below freezing, making this gnocchi pretty close to perfect. Even my kids gobbled it up!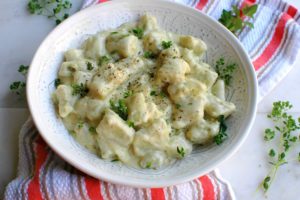 The sauce has five cloves of garlic in it, but if you want to tone down the garlic flavor, feel free to reduce the number to 3-4 cloves. The herbs you use can be whatever your favorites are! Thyme, oregano, rosemary, and basil are standards for me to incorporate into dishes because that's what I have growing in abundance in my garden!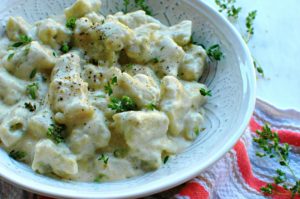 Herb Gnocchi with Garlic Cream Sauce
Prep time:
Cook time:
Total time:
Ingredients
3 lbs russet potatoes
3 cups flour
1 egg, slightly beaten
4 tbsp. butter
5 cloves garlic
1½ cups heavy cream
1 cup milk
1 tbsp. flour
1 tsp. salt
¼ tsp. freshly ground black pepper + more for topping
½ cup shredded parmesan cheese
Instructions
Cook potatoes. I remember using a large pot with a steamer basket, but if you plan to boil them, leave the skins on to make sure they don't absorb too much water. Once cooked, set potatoes aside until cool enough to handle.
Use a potato ricer to rice potatoes. I have found that even when mashing potatoes thoroughly, the texture is still too chunky for gnocchi.
Mix riced potatoes with flour and beaten egg.
Separate potato mixture into manageable pieces. I usually split it into 6-8 pieces.
With floured hands and on a floured surface, roll each section into a long snake. Use a pastry cutter to cut into one inch pieces. Place onto a large pan sprinkled with flour.
Bring a large pot of salted water to a boil.
While waiting for the water to boil, melt butter in a large pan. Add garlic and cook for a few minutes until fragrant.
Whisk flour into garlic and butter. Then add milk and cream and whisk until full incorporated.
Let mixture simmer until thickened. Whisk in salt, pepper, and parmesan cheese.
Once the water is boiling, add gnocchi in batches, being careful not to crowd the pot. Boil until gnocchi floats to the surface. Use a slotted spoon to remove gnocchi and set into a colander to completely drain. Once all gnocchi is cooked, combine it with the sauce.
Serve immediately topped with freshly ground black pepper.