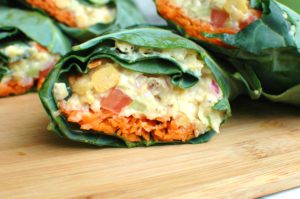 Let me tell you, I was so excited when I took a bite of these wraps. I had heard of chickpea salad as a vegetarian but still protein-packed alternative to tuna or chicken salad, and I'd heard of collard greens being used as a wrap option. But initially, I was skeptical. I love chickpeas, but I was worried that that collard greens would be bitter. Boy, was I wrong.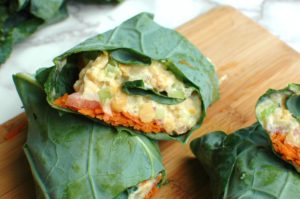 The collard green leaves were the perfect size and crunch for this creamy salad. Since the collard greens are so sturdy, it was easy to stuff extra vegetables into these wraps, like shredded carrots, sliced tomatoes, and cucumber. The texture of the chickpeas was perfect and delicious mixed with a flavorful, creamy sauce, I was one happy mama to have such a quick lunch before moving onto all the other tasks that I needed to accomplish during my kids' nap time!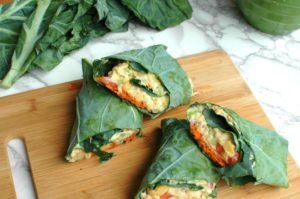 These are perfect if you're looking for something to make on a Sunday for a few easy lunches. If you don't want to use the collard greens as a wrap, this chickpea salad is also delicious tossed on a bed of greens. I used regular mayonnaise for this, but you can certainly substitute a vegan option to make this dish vegan.

Collard Chickpea Salad Wraps
Ingredients
1 can chickpeas
2 stalks celery, diced
¼ cup finely diced red onion
¼ cup. mayonnaise (can use vegan mayonnaise if desired)
½ tsp. salt
¼ tsp. ground black pepper
½ tsp. garlic powder
2-3 collard green leaves
sliced tomato, optional, for serving
sliced cucumber, optional, for serving
shredded or julienned carrot, optional, for serving
Instructions
In a medium bowl, mash chickpeas using a potato masher.
To the bowl, add celery, red onion, mayonnaise, salt, pepper, and garlic powder. Mix to combine.
Lay collard greens flat and cut off thickest part of the stem. You'll want to cut off enough to ensure the leaf is flexible enough to roll up. Simply cut out a notch to remove the stem while leaving as much of the green as possible.
Place desired vegetables (tomatoes, cucumber, carrot, etc.) on top of greens, top with chickpea salad, slice in half, and enjoy!