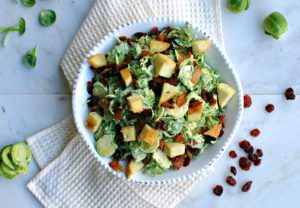 There's this salad I get from Costco every time I go. It's called the superfoods sweet kale salad and it's absolutely the best. I usually pick up a rotisserie chicken too and put that on top. This salad may be my favorite part about Costco! One of the things that I love about it is the shredded Brussels sprouts in it. Before this salad, I had only had Brussels sprouts cooked. But they add such a great crunch to salad and hold up really well under a creamy dressing. And there's no dressing creamier than a classic Caesar, so I made this Brussels sprout Caesar salad.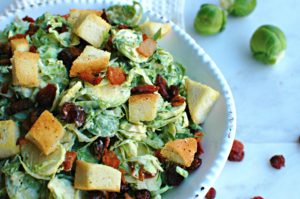 This salad has crunchy homemade croutons (but you can certainly use store-bought), crispy bacon, and sweet and tart dried cranberries. Cranberries aren't a traditional Caesar salad add, and bacon probably isn't either, but adding them really makes this Brussels sprout salad something special. Whenever I made a salad, I always want something sweet and some crunch, and this salad hits all of that perfectly. I used my food processor to shred and slice the Brussels sprouts, but you can certainly thinly slice them if you don't have one. I shredded half of the Brussels sprouts and sliced the other half using the attachments that come with the food processor for some variety.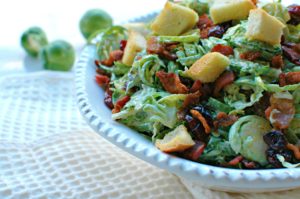 I leave anchovy paste out my Caesar salad because I don't ever have it on hand, and that means you can whip up this dressing with more common ingredients. You definitely won't miss that from the dressing, it's just as creamy and delicious as any Caesar dressing  you've ever had! It's the same dressing from my Kale Bacon Caesar Salad with Garlic Bread Croutons, which is also delicious.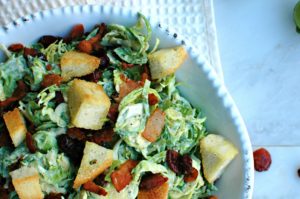 This Brussels sprout Caesar salad is hearty enough to enjoy by itself for lunch, but is equally impressive as a starter or side salad for dinner. If you like Caesar salad, this twist on it does not disappoint and is sure to become a favorite!

Brussels Sprout Caesar Salad
Prep time:
Cook time:
Total time:
Ingredients
2-3 lbs. Brussels sprouts (I used the sprouts from one "tree")
3 cups cubed French bread
3 tbsp. olive oil
½ tbsp. garlic salt
1 cup mayonnaise
½ cup finely grated parmesan cheese
2 tbsp. lemon juice
1 tbsp. Worcestershire sauce
2 tbsp. Dijon mustard
½ tsp. salt
½ tsp. garlic powder
¼ tsp. ground black pepper
6 slices bacon, cooked and crumbled
½ cup dried cranberries
Instructions
Preheat oven to 350 degrees Fahrenheit. Line a rimmed baking sheet with foil.
Spread the bread on the pan, drizzle with olive oil, and sprinkle with garlic salt. Toss with hands to coat.
Bake for 10-15 minutes until golden brown.
Using a food processer, you can shred or slice the Brussels sprouts. I did half sliced and half shredded for variety.
For the dressing, in a small bowl, whisk together mayonnaise, parmesan cheese, lemon juice, Worcestershire sauce, Dijon mustard, salt, garlic powder, and black pepper.
In a large bowl, toss Brussels sprouts with dressing. Add bacon and cranberries and toss again.
Serve topped with croutons.
Brussels sprouts can be dressed and kept for one day. Do not add bacon, cranberries, or croutons until serving.