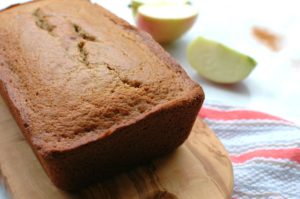 When I created this recipe, I was looking for a good recipe for an "anytime" bread. A slice of it for breakfast smeared with peanut butter, a little bit for a mid-morning or afternoon snack, or something quick to take to a playdate when I know we'll be cutting it close to lunchtime when we get home. In this recipe, I replaced butter with applesauce, which gives this a subtle apple flavor while also keeping it moist. It's a sturdy bread, which holds up well to your nut butter of choice and is easy to pack in a purse or diaper bag if you're on the go.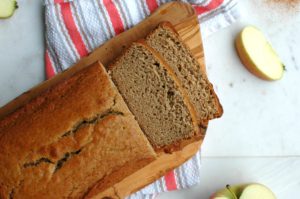 While I love breads like this spread with peanut butter, Lleyton requested a slice every morning spread with jam, so you can certainly go that route as well. Easton enjoyed bites of this for breakfast or snack time as well; it was a hit with the whole family!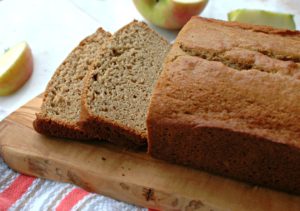 Whether you have kids or not, I'm sure this recipe will be a hit in your household as well. Toasted with butter, spread with your favorite nut butter, or even with jam as our toddler enjoys, it's the perfect bread for anytime of the day.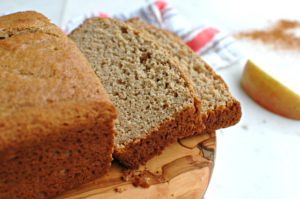 Whole Wheat Applesauce Bread
Prep time:
Cook time:
Total time:
Ingredients
½ cup vegetable or canola oil
1 cup granulated sugar
2 eggs
1 tsp. vanilla
2 tbsp. milk
1⅓ cups unsweetened applesauce
1 cup whole wheat flour
1 cup all-purpose flour
¼ tsp. salt
½ tsp. cinnamon
½ tsp. baking powder
1 tsp. baking soda
Instructions
Preheat oven to 350 degrees Fahrenheit.
Using a stand mixer, beat oil and sugar. Add eggs, one at a time, beating thoroughly after each addition until fluffy.
Add vanilla, milk, and applesauce, beat again.
In a medium bowl, whisk together whole wheat flour, all-purpose flour, salt, cinnamon, baking powder, and baking soda.
Add dry ingredients gradually to wet ingredients and mix until just combined.
Spray a loaf pan with nonstick cooking spray and pour in batter.
Bake for 45-55 minutes until a toothpick inserted into the center comes out clean.