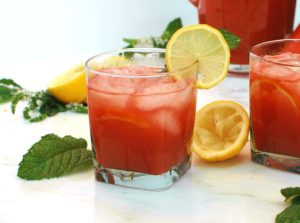 If there was ever a drink that screamed summer, this is probably it. I decided to plant mint in my garden this year, and if you've ever planted mint, you know that it takes over very quickly. The cute little plant I got at a local nursery quickly turned into a giant bush. There are probably some mojitos in my future.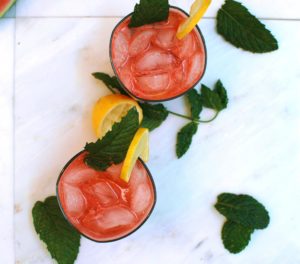 This lemonade is non-alcholic, but I have a feeling it would be delicious with some vodka or tequila added to it and topped with club soda. It's the most refreshing thing you can drink on a hot summer afternoon. Here in the Pacific Northwest, our summers are usually in 70s and 80s, but typically one week of the summer we are hit with 90+ temperatures. That was the week that I made this lemonade, and once I was done with recipe testing and photos, I collapsed onto the couch with a glass of this over ice.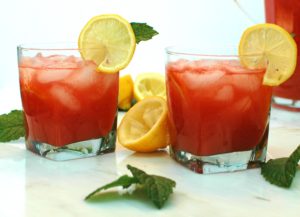 I also picked up a huge watermelon from my favorite local farmstead and since Kevin doesn't like watermelon, I had to do something with it. Even after making this lemonade, freezing some of the cubed watermelon, and leaving some in the refrigerator for snacking, I still had some leftover! Thank goodness for good friends who are willing to take 1/4 of a huge watermelon off of your hands!
I hope you make a pitcher of this lemonade to enjoy on the hottest of your summer days.
Watermelon Mint Lemonade
Prep time:
Cook time:
Total time:
Ingredients
2 cups fresh mint
3 cups water
½ cup sugar
½ cup lemon juice
pinch of salt
8 heaping cups cubed watermelon
Instructions
Bring water to a boil and add mint leaves. Lower heat until mixture is simmering and cook for about 30-40 minutes until liquid is reduced. Add sugar and stir until dissolved. Remove from heat.
Add watermelon to a blender and puree until smooth. Pour into a strainer lined with cheesecloth to remove pulp.
Add watermelon juice and lemon juice to a large pitcher and add a pinch of salt. Stir in mint simple syrup.
Keep in refrigerator until ready to serve. Stir before pouring into glasses with ice. Enjoy!