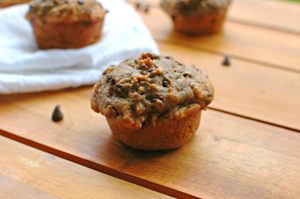 If you've been following my blog for the past few months, you know that I love a good muffin recipe. My kids are ready for breakfast approximately two minutes after waking up, and I find that it's easiest to have their breakfast ready. While they love oatmeal and scrambled eggs, I also keep homemade pancakes and waffles in the freezer and whip up naturally-sweetened muffins frequently to make sure breakfast is always ready to go. These banana almond butter muffins have been one of my most popular recipes, and these carrot zucchini muffins are a great way to sneak in some extra vegetables. Since zucchini can be a little expensive this time of year, I made these sweet potato banana muffins. Also naturally sweetened and they incorporate vitamin-rich sweet potatoes.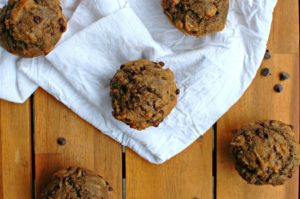 These sweet potato banana muffins have been a huge hit with both kids. When I made this recipe for these photos, I used mini-chocolate chips and have decided they're my new favorite to use in muffins, but you can certainly use regular chocolate chips as well.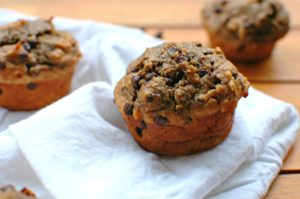 I think everyone is looking for quick, healthy breakfasts. If you're headed to the office early in the morning, grab one or two of these to enjoy on the way or with a cup of coffee once you get there. Pack a few to take to the playground for your kids. Make a double-batch to freeze for extra busy mornings. Whatever the reason that you'll looking for a healthy breakfast or snack that doesn't taste too "healthy," these muffins are for you.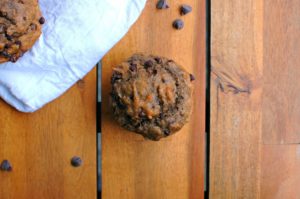 By the way, if you're looking for more easy breakfast options and are interested in pancake and waffle recipes that freeze well, I love these waffles and make them at least twice a month and I always have the vegan multigrain pancakes from The First Mess cookbook in my freezer.

Sweet Potato Banana Muffins
Prep time:
Cook time:
Total time:
Ingredients
1½ cups cooked, mashed sweet potato
2 ripe bananas, mashed
1 egg
1 tsp. vanilla
½ cup plain Greek yogurt
⅓ cup honey
2 tbsp. oil
1½ cups whole wheat flour
1½ tsp. baking powder
1 tsp. baking soda
¼ tsp. salt
¾ cup chocolate chips
Instructions
Preheat oven to 350 degrees Fahrenheit and spray a muffin tin with nonstick cooking spray.
In a medium bowl, mash together sweet potato, banana, egg, vanilla, Greek yogurt, honey, and oil.
In a separate bowl, whisk together flour, baking powder, baking soda, and salt.
Add dry ingredients to wet ingredients and mix to combine.
Fold in chocolate chips.
Distribute batter evenly between 12 muffin cups in prepared muffin tin.
Bake for 20-25 minutes until a toothpick inserted into the center comes out clean.
Remove from pan to cool on a wire rack. Enjoy!