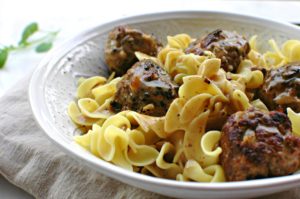 Some of the recipes I post on the blog are recipes that I've tested recently based on what inspires me, but some recipes, like this one for Swedish meatballs, are recipes that I've been making for years and have just now decided to write down and share. Lucky you! Meatballs are always a meal that I know everyone in our house will love, and it's always a win when you can find a meal that two adults, a toddler, and a baby will enjoy. Lleyton will sit at the table saying "more meatballs please!" until he's had his fill.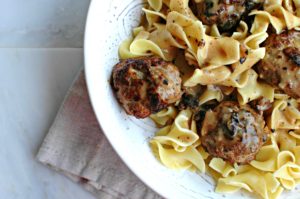 These meatballs are good for the soul, they're the most amazing comfort food. I'm torn between whether I like these meatballs more than classic meatballs and marinara! Which, by the way, if you're going to make meatballs with marinara sauce, this recipe is my absolute favorite.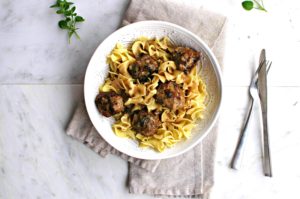 Meatballs can be time consuming; browning them in the pan and then finishing in the oven means that this is not a 30 minute meal. However, they are very easy to make ahead. Simply brown the meatballs in the pan, put them in the baking dish, and wait to bake until you're going to eat them. You can either make and then reheat the gravy before serving, or just keep the pan on the stove and heat the drippings up and make the gravy while the meatballs bake. Whatever you do, do not skip the gravy! Whenever I tell Kevin we're having these Swedish meatballs for dinner, he always asks if I made the gravy. It's so easy to throw together and pouring it over the meatballs and egg noodles complete the meal.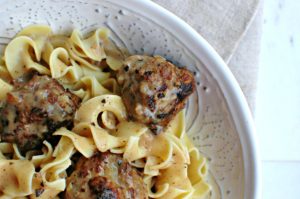 Even though we just had this meal a few weeks ago when I photographed it, looking at these pictures makes me want to put it in my meal plan again soon. And I know that my family won't complain!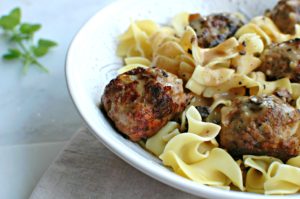 Swedish Meatballs
Prep time:
Cook time:
Total time:
Ingredients
2 slices of bread*
1¼ cup whole milk, divided
1 lb. ground beef
1 lb. ground pork
1 small yellow onion, minced
1 egg
2½ tsp. salt, divided
1 tsp. allspice
½ tsp. ground black pepper
2 tbsp. canola or vegetable oil
2 tbsp. butter
3 tbsp. flour
2 cups beef broth
Egg noodles, optional, for serving
Instructions
Rip bread into small pieces and place into a large bowl. Pour ½ cup whole milk on top and allow bread to soak up liquid.
To the large bowl, add ground beef, ground pork, egg, onion, 1½ tsp. salt, allspice, and pepper. Using your hands, mix to combine. Form meatballs that are about 1½ inches in diameter. They can be slightly smaller or larger as long as they are fairly uniform.
Heat oil in a large skillet. Working in batches and being careful not to crowd the pan, add meatballs. Using tongs, ensure they are browned on all sides. Once browned on all sides, remove from pan and place in a large baking dish, such as a 13 x 9.
Preheat oven to 350 degrees Fahrenheit and bake for 25-30 minutes until the interior of the meatballs reach 160 degrees Fahrenheit. I find that 30 minutes is always the right amount of time for my oven.
In the pan where the meatballs were browned, melt butter, scraping up the browned bits as it melts. Add flour and whisk into butter.
Add beef broth, ¾ cup whole milk, and 1 tsp. salt and whisk to combine. Simmer until it thickens to your desired consistency, whisking occasionally to ensure it doesn't stick or form lumps.
Serve meatballs on top of egg noodles and drizzled with gravy! Leftover cooked meatballs can be frozen separately from gravy.
Notes
*you can use wheat or white, but I recommend using regular store-bought bread, nothing homemade or from the bakery counter. I also recommend avoiding a seedy or nutty loaf.