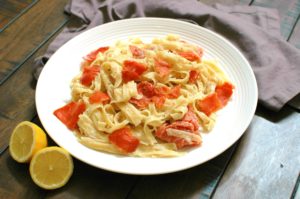 If there's one thing that I'm a fan of, it's easy dinners that taste way more complicated than they actually are. My shrimp pesto pasta is like that, and so is this smoked salmon fettuccini. This recipe has just eight ingredients, and that's including salt and pepper! I promise that if I can whip this up in about 20 minutes while both my kids were awake, you can get this on the table quickly too.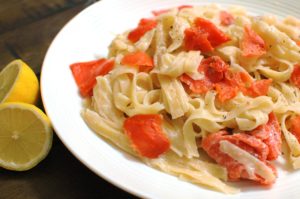 Whether your curling up on the couch with a glass of wine to watch Netflix or sitting down to Sunday dinner with your family, this dish makes you feel like you're indulging in a gourmet meal that you secretly know took hardly any time to make. All you need to pick up next time you grocery shop is about 1 lb. of smoked salmon. Everything else you probably already have in your pantry!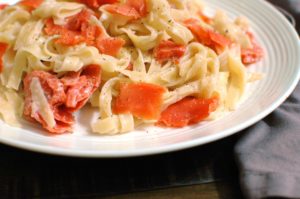 Smoked Salmon Fettucini
Prep time:
Cook time:
Total time:
Ingredients
1 lb. smoked salmon, flaked
1 lb. fettuccini
3 tbsp. butter
2 tbsp. flour
1 clove garlic, minced
1½ cups milk
1 lemon, juiced
½ tsp. salt
fresh ground pepper
Instructions
Bring a large pot of salted water* to a boil and cook pasta according to package directions. Drain and set aside.
In the same pot, melt butter and add garlic. Cook for a few minutes until fragrant. Add flour and whisk to combine. Add milk and lemon juice and whisk again. The milk will look like it is curdling, but once the mixture returns to a a simmer/low boil it will become creamy.
Add salt to sauce mixture. Remove from heat and add smoked salmon. Return pasta to pot and mix to combine.
Top with fresh ground pepper and serve immediately
Notes
*depending on how salty your smoked salmon is, you may want to make your pasta water less salty than you typically do.