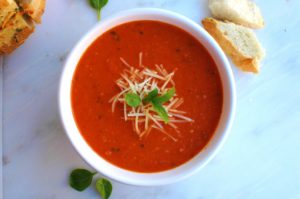 Tomato soup and grilled cheese is quite possibly my favorite comfort food. There's always an emergency can of the classic Campbell's tomato soup in our pantry for when I need it. I realize that making your own tomato soup is obviously healthier, but sometimes it just has to be Campbells, just like sometimes Kraft blue box is the only kind of Mac and cheese that you want. Now that I've made this roasted tomato basil parmesan soup, it's sure to become a staple in our house when the craving hits.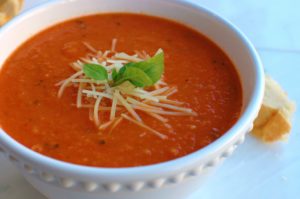 When I was pregnant with Lleyton, my ultimate pregnancy craving was grilled cheese with tomato soup. I know some women have crazy cravings, but mine was pretty simple. On our two year anniversary, we went to Newport, Oregon and on the drive home to Washington made a detour to the Tillamook Cheese Factory. I was pregnant with Lleyton at the time and the grilled cheese and tomato soup that I had there might be the best I've ever had. I think the key to a really good grilled cheese is using at least two different types of cheese, with one of them being a sharp cheddar.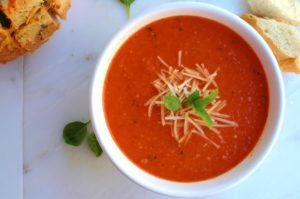 But this tomato soup goes well with any type of sandwich, or even just some good sourdough to dip in it. It's the perfect combination of flavors between the roasted tomatoes, basil, and parmesan cheese. It will be delicious with just about anything! I plan on making another batch of this soup and freezing it before summer tomatoes disappear until next year. Don't miss out on your opportunity to make it now!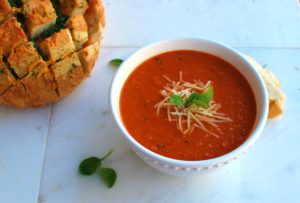 Roasted Tomato Basil Parmesan Soup
Prep time:
Cook time:
Total time:
Ingredients
4 lbs. tomatoes, cored and halved*
2 tbsp. olive oil + more for drizzling
1 yellow onion, diced
3 cloves garlic, minced
½ cup basil, thinly sliced
3 cups chicken or vegetable broth
1 tsp. kosher salt + more for sprinkling
¼ tsp. freshly ground black pepper
½ cup shredded parmesan cheese + more for garnish if desired
Instructions
Preheat oven to 425 degrees Fahrenheit.
Spread tomatoes on a rimmed baking sheet lined with foil. Drizzle with olive oil and sprinkle with kosher salt. Roast for 30-40 minutes until edges of tomatoes are golden brown.
In a large pot, heat 2 tbsp. olive oil. Cook onion and garlic until translucent.
Add tomatoes, broth, 1 tsp. salt and ¼ tsp. pepper, basil, and cook until tomatoes break apart.
Transfer mixture to blender and blend until smooth. Use caution not to overfill the blender with the hot liquid.*
Transfer mixture back to pot and stir in parmesan cheese.
Serve topped with extra parmesan cheese, if desired. Enjoy!
Notes
* I used Roma tomatoes.
* You can probably use an immersion blender if you have one, but I don't and my standard blender worked great!
Like what you see? Pin it here!