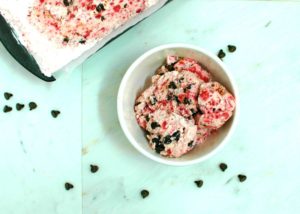 Is it possible to make homemade ice cream with four ingredients and no ice cream mixer. Yes and yes.
Honestly, I whipped up this ice cream in about 10 minutes and then stood in my kitchen licking the spoon waiting for it to freeze, which was clearly time well spent.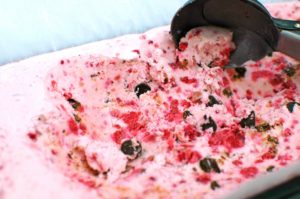 Heavy whipping cream and sweetened condensed milk are the two main ingredients in my homemade ice cream. After that you can customize it however you want! Add different berries, some vanilla extract, whatever feels right. Or put it all in, that usually feels right to me when it comes to ice cream.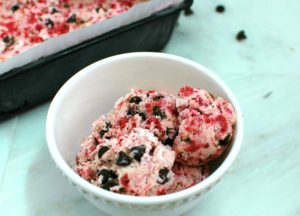 Because this ice cream is made without an ice cream maker, you'll find that the texture is a little "icier" and I recommend removing it from the freezer and letting it sit at room temperature for at least 5 minutes before scooping and serving. It's a long, painful five minutes, but you can make it.
If you're looking for an easy summer dessert, look no further! This couldn't be easier or more delicious.

Raspberry Chip Ice Cream
Ingredients
2 cups heavy whipping cream
1 14 oz. can sweetened condensed milk
2 cups fresh or frozen raspberries (if frozen, thaw slightly before using)
1 cup chocolate chips, roughly chopped
Instructions
Using a stand or hand mixer, beat whipping cream until stiff peaks form.
Add sweetened condensed milk and whip until combined.
Add raspberries and whip just until raspberries start to break apart. They don't all need to be broken apart, just enough that you get that nice pink color.
Fold in chocolate chips.
Spread ice cream mixture into a loaf pan lined with parchment paper and freeze until solid.
Let sit at room temperature for 5 minutes prior to scooping and serving.