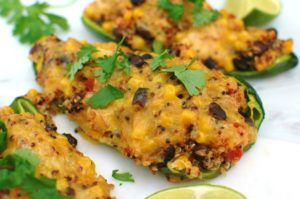 I get love all the recipes that I test and post here, but this one made me especially excited. I've been making the "Mexican quinoa" filling for these poblanos for years. I generally have all the ingredients on hand for the filling in the pantry and can quickly whip it together for a dinner when I didn't have anything planned. The quinoa packs enough protein to fill you up and with a simple salad on the side you're sure to be satisfied.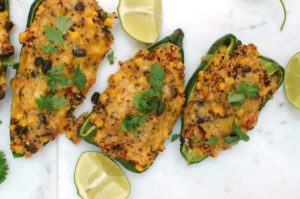 I knew that the quinoa would make a great filling for poblano peppers and I was right! Lleyton enjoyed the filling by itself to cut out the heat. Generally we try to eat meatless in our house at least two nights a week, and we do this for a few reasons. First, it's healthier. People tend to eat much more meat than is in a "serving size," which means they're too full to eat the vegetables and whole grains that their body also needs. Second, it's generally cheaper. Assuming you're buying your produce in-season, I find that plant-based dishes are typically less expensive to make than meat dishes. Finally, I feel like I run better and have more energy when I'm fueling my body with plant-based protein sources. Eating meat a few nights a week and getting our protein from quinoa, lentils, or beans the rest of the nights seems to work well for our whole family! I will say that we LOVE meat and we definitely would never cut it out completely. But if you're looking to cut some costs on your grocery bill and get some more vegetables and whole grains into your life, cutting meat out a few nights a week might help!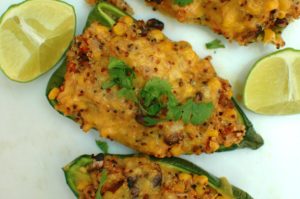 Anyways, back to this recipe. You won't even miss the meat! The hearty filling of quinoa, black beans, corn, and tomatoes is delicious stuffed into poblanos and covered with cheese. You can even omit the cheese if you'd like to make this dish vegan. Topped with fresh cilantro and a squeeze of lime juice, you're sure to love this dish.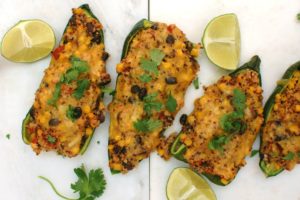 Quinoa Stuffed Poblanos
Prep time:
Cook time:
Total time:
Ingredients
2 cups cooked quinoa
1 15.5 oz. canned tomatoes
1 can black beans
1 can corn
2 tbsp. olive oil
½ yellow onion, diced
2 cloves garlic, minced
1½ tsp. salt
2 tsp. cumin
¼ tsp. chili powder
¼ tsp. black pepper
5 poblanos, halved with seeds and ribs removed
1 cup shredded cheddar cheese
Instructions
Preheat oven to 350 degrees Fahrenheit and line a rimmed baking sheet with foil. Spray with nonstick cooking spray. Place poblanos, cut side up, onto baking sheet and cook for 15 minutes.*
In a large pan, heat olive oil. Add onions and garlic and cook until translucent.
Add tomatoes, black beans, and corn to pan and stir again.
Add salt, cumin, chili powder, and pepper. Stir, taste, and add more as needed
Remove pan from oven and divide filling between pepper halves. Top with shredded cheese.
Bake for 20-25 minutes until cheese is melted and filling is cooked through.
Serve topped with fresh cilantro and a squeeze of lime juice!
Notes
*If you don't mind the heat of the poblanos, you can omit this step. Cooking the poblanos reduces the heat. Once you add the filling the poblanos will cook for 20-25 minutes, but cooking them for longer makes them less spicy. Up to you depending on your how spicy you like your food!