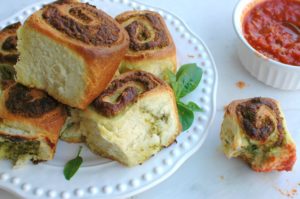 I love cinnamon rolls. They've become a holiday tradition for us on Thanksgiving and Christmas and I'll share my recipe this holiday season. But making cinnamon rolls has made me think about other delicious fillings that you can put into rolls, and I came up with this savory version. My garden has produced a ton of basil this year, which has been wonderful, and I used the last of my basil to make the pesto for these rolls.
Dipped in homemade marinara, these can even be a meal in themselves alongside a salad. You can also always slice them thinner and make them as an appetizer. They're also the perfect side dish for a meaty Italian dish. No matter what you serve them with, they're sure to be a hit. The pesto and stretchy, melty mozzarella filling rolled into the dough makes sure that every bite is perfect and packed with flavor. I use the same pesto recipe from my shrimp pesto pasta, which uses almonds instead of pine nuts to save some money. Since this pesto isn't being used as a sauce to coat pasta, I recommend decreasing the olive oil amount a bit from that recipe to ensure it's not too thin. My recommendations are included in the recipe below.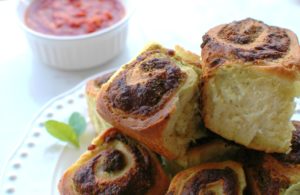 These rolls can be made as a larger size as shown in the picture above, for a side dish or even a meal with a salad. If you choose to serve them as an appetizer, you will want to roll the dough thinner. I find that if the dough is too thin, it is more difficult to roll. To make this step easier, I roll the dough onto parchment paper. That allows me to use the paper to lift the dough for rolling. Please note in the directions below the size difference for the pan you should use depending on the size roll you want to serve. Enjoy!

Pesto Mozzarella Rolls
Prep time:
Cook time:
Total time:
Ingredients
1 cup warm milk
3 tbsp. sugar
1 pkg. active dry yeast
2 tsp. salt, divided
3 cups all-purpose flour + more for kneading
Flavorless oil (such as canola or vegetable), for bowl for rising
4 tbsp. melted and cooled butter
1½ cups shredded mozzarella cheese
2 cups fresh basil
¼ cup almonds
2-3 cloves garlic
⅓ cup - ½ cup olive oil
¼ cup shredded parmesan cheese
¼ tsp. ground black pepper
Instructions
In a stand mixer combine warm milk, sugar, and yeast. Let sit 10 minutes to allow yeast to bloom. Add melted butter to yeast mixture.
In a medium bowl, whisk together 1 tsp. salt and flour. Add flour mixture to stand mixer and knead dough with dough hook attachment.*
Add more flour as kneaded, dough will be slightly sticky.
Place dough in an oiled bowl, flipping once to coat, and cover with plastic wrap. Set bowl in a warm place to rise for at least 1 hour until doubled in size.
While the dough is rising, make the pesto. Combine basil, almonds, garlic, ⅓ cup olive oil, parmesan cheese, 1 tsp. salt, and pepper in a food processor. You can add additional olive oil as necessary, but you want this pesto to be thicker to spread on the dough.
After the dough has doubled in size, punch it down and remove from bowl. You will now roll out the dough; I find it's easier to roll onto a large sheet of parchment paper, but you can certainly use a floured surface. Roll dough into a large rectangle about ½ inch in thickness. If you plan to use this for an appetizer, you can roll the dough more thinly, but use caution as it will be more difficult to roll.
Spread dough evenly with pesto and top with mozzarella cheese. Roll dough tightly and slice into rolls, about 9-10 rolls for larger rolls as shown in the picture. If you'd like smaller rolls an appetizer, slice more thinly.
Preheat oven to 425 degrees Fahrenheit.
Spray an 8 x 8 baking dish with nonstick cooking spray. Place the rolls in pan and allow to rise for 30-45 minutes until the rolls fill the plan. If you are making appetizer size rolls, use a 9 x 13 baking dish.
Bake rolls for 30-35 minutes until rolls are golden brown.
Serve warm.
Notes
* If you don't have a stand mixer, mix the yeast, milk, and sugar in a large bowl and mix in flour mixture with a spoon. Using your hands, knead the dough on a floured surface.
Like what you see? Pin it here!