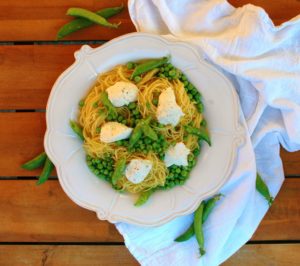 I love pasta. It's such an easy meal to make, can be customized a million different ways, and obviously delicious. And while I do have a pasta maker (and will be making homemade pasta for the blog soon!), I also always have a few boxes of pasta in various shapes in the pantry. I always have penne and rigatoni because those noodles can be cut into pieces the perfect size for toddler hands. But I also always have some form of angel hair, spaghetti, or linguine. I usually have lasagna noodles too because every time I make lasagna I never need the whole box. Then the next time I'm making lasagna I buy another box, and eventually I have 3-4 boxes of lasagna noodles with a few noodles left and have a lasagna party to use them up. We can be friends. I'll invite you to my next lasagna party.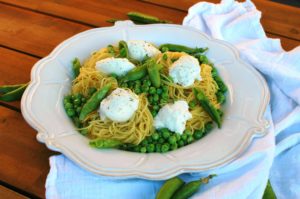 This pasta dish comes together extra quick because I used angel hair pasta, which cooks in just a few minutes. Ricotta, butter, garlic, and peas come together in a simple dinner dish that is sure to please.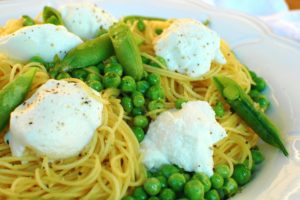 This recipe calls for fresh peas, and while frozen will certainly do just fine, fresh ones really take this dish to the next level. I found some for super cheap at a local farmstead and wanted to use them in a recipe where they could really shine.

Pasta with Ricotta and Peas
Prep time:
Cook time:
Total time:
Ingredients
12 oz. angel hair pasta
1½ cup fresh peas*
4 tbsp. butter
2 tbsp. olive oil
2 cloves garlic, minced
⅔ cup ricotta cheese
½ tsp. salt
¼ tsp. ground black pepper
Instructions
Bring a large pot of salted water to a boil and cook angel hair pasta according to package directions. Once cooked, drain and toss with 1 tbsp. olive oil.
In a large pan, melt butter and add 1 tbsp. olive oil. Add garlic and cook 2-3 minutes until fragrant. Add peas and season with salt and pepper. Add more salt and pepper to taste, if desired.
Add pasta to pan and toss to coat.
Ricotta cheese can be mixed into pasta or served on top of it once served.
Serve topped with fresh ground pepper.
Notes
You can use frozen peas if fresh are not available.