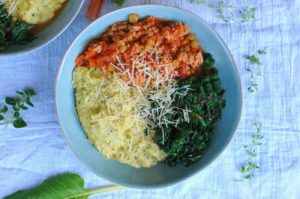 Polenta is something I always keep in my pantry. Grain bowls are popular easy meals right now, and I think we should make polenta bowls a new trend too. I'm usually pretty diligent on planning our dinners for the week to avoid extra grocery store trips with two kids in tow, but one night last week I had planned for leftovers for dinner that were already eaten. We were enjoying a relaxing Sunday and the last thing I wanted to do was go to the store. So I cut some Swiss chard and herbs from the garden, pulled some frozen ground pork from the freezer, and reached into my pantry for my trusty polenta.
I was thrilled with how these came together and knew I needed to share the recipe with you. Creamy polenta, a hearty ragu, and bright Swiss chard come together in a dish that is super filling but doesn't weigh you down.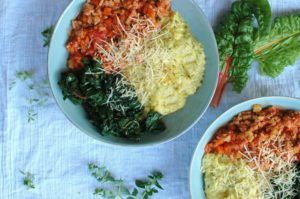 Another great thing about this recipe is how customizable it is. You can easily substitute other greens or add some extra vegetables into the rags if you have some sad looking celery in your refrigerator. I hope you make this, love it, and gobble it up. And I hope you add polenta to your list of pantry staples!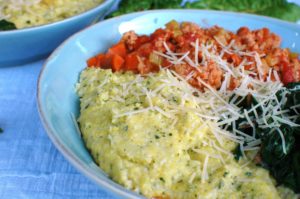 Parmesan Herb Polenta Bowls
Prep time:
Cook time:
Total time:
Ingredients
3 cups water
1 cup dry polenta
¾ cup parmesan cheese
3 heaping tbsp. fresh herbs (I used a mix of thyme and oregano)
1 large bunch Swiss chard, chopped
1 lb. ground pork
2 stalks celery, diced
2 carrots, diced
1 small onion, diced
1 15 oz. can diced tomatoes
1 15 oz. can tomato sauce
2 cloves garlic, minced
1 tsp. salt + more to taste
½ tsp. ground black pepper + more to taste
4 tbsp. olive oil, divided
Instructions
Bring water to a boil. Add polenta and reduce heat to low. Stir occasionally until polenta is thick and creamy. Add parmesan cheese, herbs, and season to taste with salt and pepper.
Heat 2 tbsp. olive oil in a large pan. Add carrots, celery, onion, and garlic and cook for 5-6 minutes. Add ground pork and cook until browned. Add diced tomatoes and tomato sauce and cook for about 10 more minutes, stirring occasionally. Remove and set aside.
In the same pan, add remaining 2 tbsp. olive oil. Add Swiss chard and cook until wilted. Season to taste with salt and pepper.
Assemble the polenta bowls: add polenta to bowl and top with pork rags and Swiss chard. Top with additional parmesan cheese, if desired.