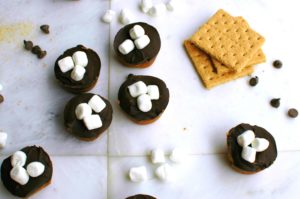 Hands down, my favorite part of camping is s'mores. While writing this post, I looked up to see who invented s'mores. I was betting on a toddler because they are both fueled by graham crackers and enjoy smashing things together. Bonus points if they're sticky. I found this article and found it interesting that no one is exactly sure how they were invented. I like to nerd out over food; if that's not for you, keep scrolling for more pictures of delicious little tarts. The only thing I didn't like about the article was at the end where it recommends that you only eat one s'more. Impossible, I say.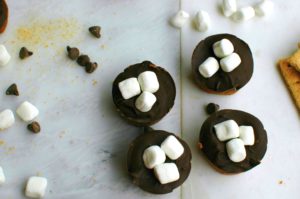 Sadly here in the Pacific Northwest, there are frequently burn bans in the summer, which means that you can't have campfires while camping. Which means no s'mores! Many people think that it rains constantly all year here, but that's not true. Our summers are actually very dry and we go months without any rain, making forest fires a huge danger and s'mores while summer camping infrequent.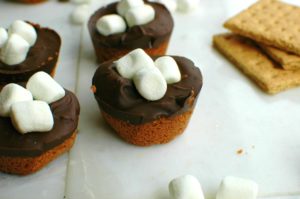 But I've saved the day, because I bring you mini s'mores tarts that you bake in the oven, meaning you can have s'mores any day of the year whether you have a bonfire or not.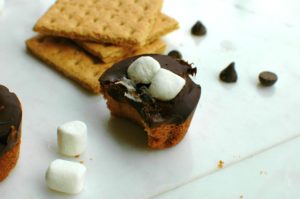 You can feel free to torch the marshmallows if you'd like some extra gooeyness, but I realize that not everyone has a torch in their kitchen. I hope you make these little tarts the next time you have a s'mores craving!

Mini S'mores Tarts
Prep time:
Cook time:
Total time:
Ingredients
9 graham crackers, crushed*
6 tbsp. melted butter
1½ cups chocolate chips, melted
2 tbsp. heavy cream
36-40 mini marshmallows
Instructions
Preheat oven to 350 degrees Fahrenheit.
Using a min-muffin tin, spray 12-14 cups with nonstick cooking spray and line each with a strip of parchment paper. This makes the s'mores cups much easier to remove after they have cooled.
In a small bowl, combine crushed graham crackers and melted butter. Distribute evenly between sprayed muffin cups, pressing mixture down firmly.*
Bake for 10-12 minutes until golden brown.
In a small bowl, combine chocolate chips and heavy cream. Pour over graham cracker base in mini muffin tin.
Place 3 marshmallows on each tart.
Refrigerate for at least 1 hour until solid.
Remove tarts while cold, as they will come out more easily. You can serve them immediately, but the chocolate will still be quite firm. Waiting until they are room temperature will leave the chocolate less solid.
Enjoy!
Notes
* I find the easiest way to do this is in a food processor, but if you don't have one you can put the graham crackers in a plastic bag and use a rolling pin.
* I made 13 mini tarts with this recipe. If you like a thinner or thicker graham cracker base, you can make either 12 or 14. I don't recommend making less than 12 or the graham cracker base will be too thick. Likewise, making more than 14 may lead to a too thin graham cracker base.