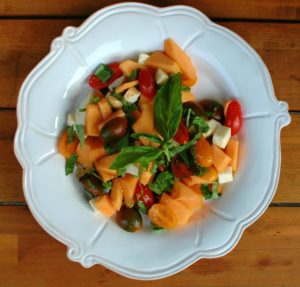 Kevin and I took our honeymoon in Italy over our one-year anniversary. I left for a month of Army training three days after our wedding and deployed to Afghanistan two months after that, which didn't leave any time for a honeymoon. We went to Lake Como, Italy and Kevin planned the entire trip while I was deployed. Every morning we would have a huge breakfast at our hotel overlooking the lake and would head out for a day of adventures. Since we knew we would be having a big dinner, we always had caprese salad for lunch (and sometimes gelato).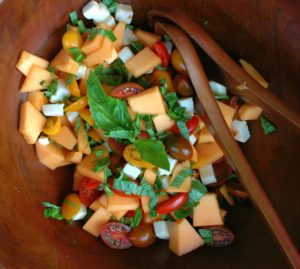 Even though it's such a simple salad, with fresh, high-quality ingredients, it's so delicious. This version of the salad has cantaloupe in it, and the added sweetness brings traditional caprese to another level. Since this recipe has so few ingredients, I highly recommend that you make it in the summer, when you can get the freshest tomatoes and the sweetest melon. Until we can get back to Italy, this will do just fine.

Melon Caprese Salad
Serves:
2 large or 4 small portions
Ingredients
½ large cantaloupe, cut into bite-sized pieces
1 pint grape or cherry tomatoes
1 cup basil, loosely packed and cut into ribbons
8 oz. fresh mozzarella, diced
¼ cup olive oil
½ cup balsamic vinegar
salt
pepper
Instructions
In a large bowl, combine melon, tomatoes, mozzarella, and basil.
In another small bowl, whisk together olive oil and balsamic vinegar. Add salt and pepper to taste.
Drizzle dressing over salad.
Serve immediately and enjoy!