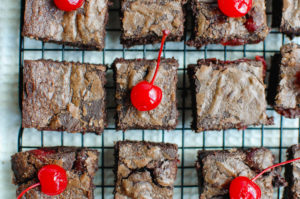 A few months ago, I was brainstorming a brownie recipe to put on the blog. I tried different ingredients to "improve" upon classic brownies. I added a little baking powder or soda to see if I could make them fluffier, I added too much flour, reduced the butter and chocolate, and so many other brownie mistakes. Needless to say, they didn't turn out. They weren't inedible, but were more like a sad, flat chocolate cake. No one needs that.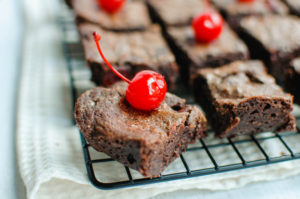 Consequently, I took a brownie hiatus. But I have returned from it to bring you these maraschino cherry chocolate chip brownies! I knew that cherries and chocolate would be a dreamy brownie combination and wanted to bring you this treat in time for Valentine's Day.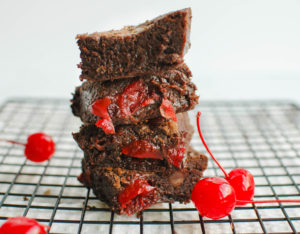 I learned by making these brownies that the perfect brownies don't need much. A lot of butter, sugar, and chocolate (melted chocolate, cocoa powder, and chocolate chips in this case…the more chocolate the merrier!), and not a lot of flour. No baking soda or baking powder in these beauties, and I promise that they will make the fudgiest brownies you've ever had.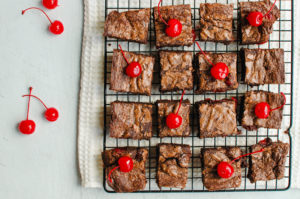 When I took these out of the oven, I just about jumped with joy. They had the perfect crackly chocolate top, the fudgy, gooey texture we all want in our brownies, and juicy maraschino cherries bursting in each bite. Could you possibly want anything more in life?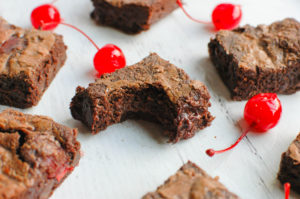 Some people say that Valentine's Day is a "made up" holiday, and maybe it has been glamorized a bit with the need to buy flowers and chocolate and a card and jewelry. But I'll take it as a special day to celebrate my main man, as well as my two little valentines. We always get take-out sushi after the kids go to bed, and exchange cards as well as getting each other our respective favorite candy (Twix for him, Reese's for me). It's not fussy, or over-the-top, and is a fun and perfect day to show each other a little extra love.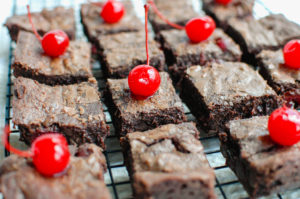 Whether you celebrate Valentine's Day or not, you deserve these brownies. Make them for yourself, to share, whatever feels right to you.

Marischino Cherry Chocolate Chip Brownies
Prep time:
Cook time:
Total time:
Ingredients
¾ cup melted butter
1¼ cup granulated sugar
2 eggs
1 tsp. vanilla
4 oz. semi-sweet chocolate, melted and cooled
¾ cup + 2 tbsp. all-purpose flour
1 tsp. salt
¼ cup cocoa powder
¾ cup whole marischino cherries
½ cup chocolate chips
Instructions
Preheat oven to 350 degrees Fahrenheit. Spray an 8 x 8 baking dish or pan with nonstick cooking spray and line with parchment paper, leaving some overhang for easy brownie removal.
Whisk melted butter and sugar together in a large bowl. Add eggs and vanilla and whisk again. Add chocolate and whisk until just combined.
Pat cherries dry with a paper towel and toss with 2 tbsp. flour
In a medium bowl, whisk together ¾ cup flour, salt, and cocoa powder.
Pour flour mixture into wet ingredients and stir until just combined.*
Fold flour-coated cherries and chocolate chips into batter.
Bake for 22-26 minutes until set and a toothpick inserted in the center comes out clean.
Let brownies fully cool in pan before removing and slicing.
Enjoy!
Notes
*I think this is THE singular most important thing to note with brownies. If you overmix, you'll have cakey brownies.