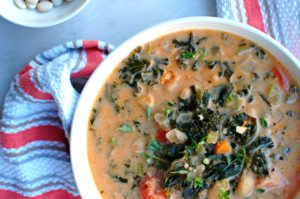 Adding a handful of leafy greens into soup has always been one of my favorite way to add extra vegetables. Kale holds up very well in soup, while wilting to the perfect texture to enjoy alongside the creamy beans. Even though this dish is meatless, it's packed with protein. With kale, carrots, celery, and tomatoes starring in the soup, this is a hearty dish that you're sure to get seconds of.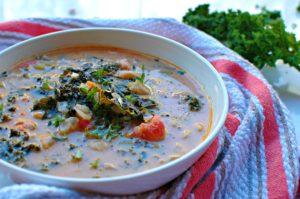 I make a big batch of soup or stew at least once a week in the fall and winter. I'll even push it to early spring if we're still having cool weather and aren't sick of it yet. There is something so therapeutic about chopping vegetables and simmering them on the stove. The hour right before dinner is usually a bit hectic with two boys two and under running around, so I always make dinner during afternoon an-time. When we're having soup, I just have to reheat it on the stove and we have a delicious dinner ready to go once dinnertime hits. Soup combinations are endless, and I find I never get sick of a cozy bowl alongside some homemade crusty bread, cornbread, or rolls.
Feeding the boys soup is a bit of a mess; I generally give them minimal broth and lots of the vegetables and beans for them to enjoy. Lleyton usually asks me what he's eating before he takes a bite, but Easton will eat anything and everything (with both hands).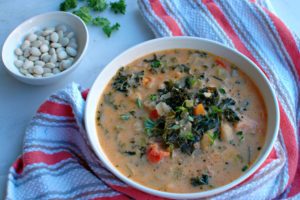 I've been making this soup for years and have just now taken the time to write down the recipe. You can use a can of tomatoes from the store in this, but I love adding a jar of my home-canned whole peeled tomatoes, crushing them up as I add them. It's a little taste of summer when it's dark and cold outside.

Kale and White Bean Soup
Prep time:
Cook time:
Total time:
Ingredients
3 tbsp. olive oil
3 stalks celery, diced
3 cloves garlic, minced
2 large carrots, peeled and diced
1 yellow onion, diced
2 tbsp. flour
1 bunch kale, stems removed and chopped
2 cans white beans (I used great northern beans)
1 can diced tomatoes*
3 cups broth*
1 cup heavy cream
¼ tsp. black pepper
1 tsp. salt
½ tsp. thyme
½ tsp. sage
Instructions
In a large pot, heat olive oil. Add celery, garlic, carrots, and onion and cook until tender.
Add flour and stir to coat.
Add kale and cook until it begins to wilt.
Add white beans, tomatoes, broth, black pepper, salt, thyme and sage. Bring to a boil and reduce to a simmer for 15-20 minutes.
Stir in cream.
Taste and adjust seasonings as desired.
Enjoy!
Notes
* I used a jar of my home-canned tomatoes and crushed them as I added them. A can of diced tomatoes from the store also works!
* I used homemade chicken broth. Depending on the kind of broth you use, you may need to add more salt to taste.
Like what you see? Pin it here!