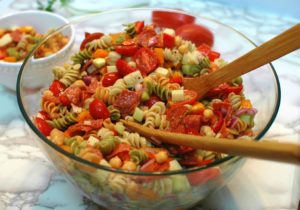 This pasta salad is going to be what you want to bring to every BBQ this summer. It's also the perfect dish to make ahead if you're looking for easy lunches during the week. It's packed with veggies and has a vinaigrette that would be delicious on any salad. I'm convinced that once you make this pasta salad, you'll be hard-pressed to find one you like more.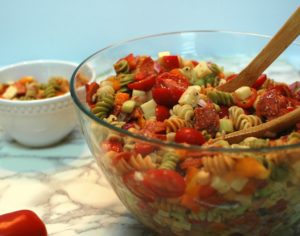 It is that good! I've been making this pasta salad for years and had never written down the recipe. I just combined all the things that I thought belonged in a pasta salad, made a super yummy and easy vinaigrette, and tossed it all together. If you can make this a few hours before or even the day before you plan to enjoy it, the flavors combine even more. But it's just as delicious enjoyed as soon as you make it! Because let's be honest, sometimes you can't help yourself.

Italian Chopped Pasta Salad
Prep time:
Cook time:
Total time:
Ingredients
12 oz. tri-color rotini
1 pint grape or cherry tomatoes, halved
1 cucumber, peeled, seeded, and diced
1 red bell pepper, diced
1 orange bell pepper, diced
8 oz. monterey jack cheese
6 oz. pepperoni, chopped*
½ cup finely chopped red onion
1 15.5 oz can chickpeas, rinsed and drained
½ cup olive oil
½ cup red wine vinegar
1 tsp. salt
¼ tsp. ground black pepper
½ tsp. garlic powder
1 tbsp. dried oregano
Instructions
Bring a large pot of salted water to a boil and cook pasta according to package directions. Drain and set aside.
In a large bowl, combine tomatoes, cucumber, peppers, cheese, pepperoni, red onion, and chickpeas. Add pasta.
In a small bowl, whisk together, olive oil, vinegar, salt, pepper, garlic powder, and oregano. Add to pasta salad.
Toss to combine. Can be served immediately but is even better after a few hours or overnight.
Notes
*I used pepperoni slices that I then cut into quarters, but you can chop the pepperoni however you like.