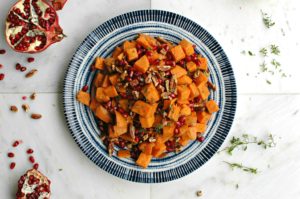 Yes, this is a long title for a recipe. But I wanted to make sure that I captured the deliciousness of this sweet potato dish! A lot of Thanksgiving side dishes are heavy and end up laden with gravy. More traditional sweet potatoes are covered with butter, brown sugar, and maybe pecans or marshmallows. Let me tell you, I am all about sweet potatoes, and I love my dad's traditional sweet potatoes with brown sugar and pecans, but some people may be looking for an alternative to the traditional heavy Thanksgiving sides.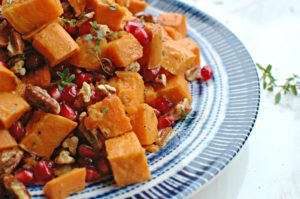 My cornbread sausage dressing and twice-baked mashed potatoes fall on the heavier side for Thanksgiving side dishes. These herb-roasted sweet potatoes are tossed in a delicious lemony-honey dressing, pomegranate arils, or pomegranate seeds, and toasted pecans. This side combines all the flavors of Thanksgiving in a much lighter side dish.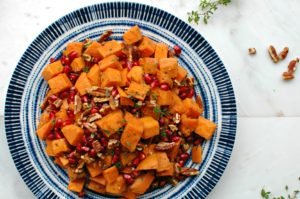 Thanksgiving seems to be a holiday where traditions are never veered from. Maybe you use the same dressing recipe that was used by your great-grandmother. Maybe you serve green bean casserole made with classic Campbell's cream of mushroom soup and French's French-fried onions. I have a huge respect for traditional dishes, that's part of what makes the holidays so special; having that side dish or pie that you only have once a year.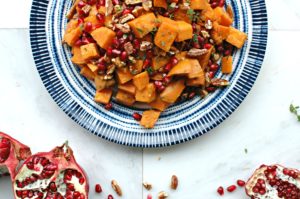 But maybe you are looking to start your own tradition as a family, or you're looking for a lighter side dish, or you don't have a traditional sweet potato recipe. Thanksgiving dinner can never have too many side dishes and since these are such a far cry from marshmallow-topped sweet potato casserole, you can certainly serve both. This recipe is so easy and requires little prep time, and I promise that this dish will be as much of a hit as the more butter-laden ones.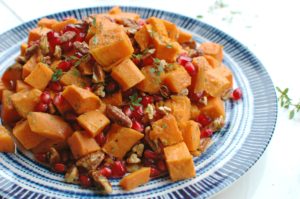 Herb Roasted Sweet Potatoes with Pomegranate and Pecans
Prep time:
Cook time:
Total time:
Ingredients
2 large sweet potatoes, peeled and chopped into 1 inch pieces
1-2 tbsp. olive oil
½ tsp. salt
¼ tsp. fresh-ground black pepper
½ tbsp. fresh thyme
½ tbsp. fresh rosemary
1 pomegranate, arils removed
¾ cup chopped pecans
1 lemon, juiced
2 tbsp. honey
1 tbsp. apple cider vinegar
1 tbsp. peanut oil
Instructions
Preheat oven to 425 degrees Fahrenheit.
Spread potatoes on a rimmed baking sheet and drizzle with olive oil. Sprinkle with salt, pepper, thyme, and rosemary. Toss to evenly coat. Bake for 25-30 minutes, stirring halfway, until sweet potatoes are golden brown and have crispy edges.
Lower oven temperature to 350 degrees Fahrenheit. Spread pecans on a rimmed baking sheet and bake until toasted and fragrant, about 10 minutes.
In a small bowl, whisk together lemon juice, honey, and peanut oil.
In a large bowl, gently combine sweet potatoes, pomegranate arils, and toasted pecans. Drizzle with lemon-honey dressing and gently toss to coat.
Serve warm.