If there were ever two ingredients that belong together, they are green chilis and cheese. It goes without saying that macaroni and cheese is comfort food at it's finest, and adding a little bit of heat and flavor from the green chilis really takes it to the next level.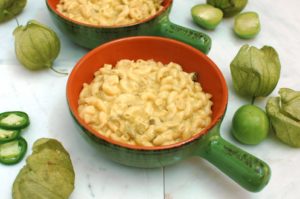 And when I say a little bit of heat, I mean just that. I kept the spice level down to make this recipe toddler-friendly, but if you like your food hotter, feel free to add another jalapeño in there!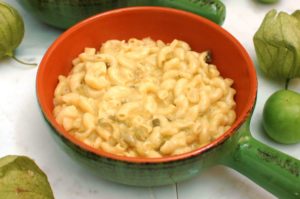 This is what you make when you're curling up on the couch on a Friday night and want to tuck into something warm and comforting. It's a quick dish to make, is packed with flavor, and is sure to accompany whatever your Netflix choice du jour is. Next time you're grocery shopping add a few extra ingredients to your cart to make this your new Friday night low-key night in staple dinner.

Green Chili Mac and Cheese
Prep time:
Cook time:
Total time:
Ingredients
1 lb. elbow pasta
2 tbsp. butter
2 cloves garlic, minced
½ yellow onion, finely diced
1 jalapeno, seeded and finely diced
1 7 oz. can green chilis
1½ cup chopped tomatillos
2 tbsp. all-purpose flour
3 cups whole milk
2 cups shredded cheddar cheese
1 tsp. salt
¼ tsp. ground black pepper
Instructions
Bring a large pot of salted water to a boil. Cook pasta according to package directions, drain and set aside.
In the same pot, melt butter.
Add garlic, onion, and jalapeño. Cook until onion is translucent, stirring occasionally.
Add green chilis and tomatillos. Cook for about 5 minutes until tomatillos break apart and form a sauce.
Add flour and stir to combine.
Add milk, salt, and pepper, and allow to thicken.
Add cheese and stir until melted.
Return pasta to the pot and stir. Serve immediately.