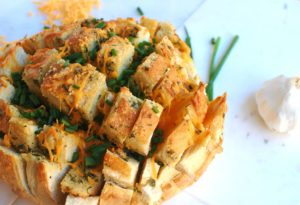 When you want to serve bread with some soup or stew, you can serve a regular old loaf of bread, or you can cut notches in it and stuff it full of cheese, garlic, and butter. The answer seems pretty clear when you think about it that way, doesn't it? Loaded bread is better than boring bread. And this takes just a few minutes to throw together! If you're not serving it with soup, this bread makes a great snack or appetizer alongside some marinara sauce or just by itself. I find that most people like things covered with melted cheese.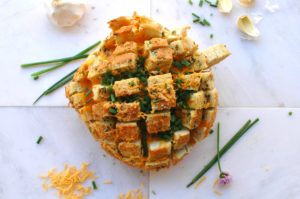 When you cut this bread, it's important to make sure you don't cut all the way through the loaf. The pieces that are left after you have sliced it are perfect for grabbing, dipping, and popping in your mouth for a delicious snack. With this preparation, you don't need to have a knife alongside the bread, you can just pull off what you want and eat like animals! Which is all we really want to do, anyways.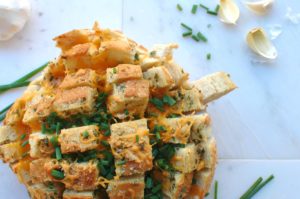 Garlic Cheddar Pull-Apart Bread
Prep time:
Cook time:
Total time:
Ingredients
1 round loaf of sourdough bread
6 tbsp. butter, melted and cooled slightly
1 tbsp. garlic salt
1 tsp. garlic powder
1 tbsp. parsley flakes
¼ tsp. ground black pepper
1 cup shredded cheddar cheese
Instructions
Preheat oven to 350 degrees Fahrenheit.
Slice the loaf of bread lengthwise and crosswise as shown in the picture above, with about 1 inch of space in between slices. Be sure to not slice all the way through the loaf.
In a small bowl, combine melted butter, garlic salt, garlic powder, parsley flakes, and black pepper.
Drizzle butter and garlic mixture over bread, using your fingers to stuff it as far down into the loaf as you can for maximum flavor.
Top with shredded cheese, pushing some of the cheese down into the bread crevices.
Bake for 10-15 minutes until cheese is melted.
Serve warm alongside soup, chili, marinara sauce, or by itself!
Like what you see? Pin it here!