For some people, roasting a huge piece of meat is intimating. Whether that's a whole chicken, Thanksgiving turkey, pork loin, or a whole fish, lots of people worry about under or overcooking the meat. While that's a valid concern, once you do it a few times you get used to it and can make a delicious dinner to impress guests! One reason why I love doing a meal like this for guests is that once it goes into the oven, it requires minimal effort from me and allows me to socialize.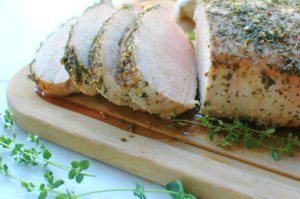 I love the fresh herbs that grow in abundance in my garden. Thankfully, with the mild weather in the Pacific Northwest, I'll have fresh herbs right in my backyard until it dips below freezing at night, which is still a few months away. Whenever I have friends over, I invite them to snip some herbs from the garden before they head home. Herbs are expensive from the grocery store and taste so much better when they are freshly picked. I'm happy to share my garden bounty!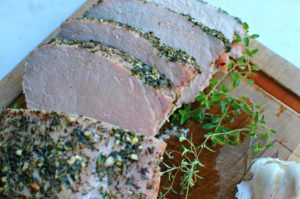 I highly recommend a meat thermometer for this recipe or for anytime you cook a large piece of meat of any type. Even for Thanksgiving turkeys, those pop out white pieces aren't always guaranteed to work and it's important to make sure your meat is properly cooked without it being overcooked and dry.
Next time you're entertaining be sure to make this dish! But it's also easy enough for a weeknight dinner. Minimal prep and about 40 minutes in the oven give you a juicy, flavorful pork loin.

Garlic and Herb Pork Loin
Prep time:
Cook time:
Total time:
Ingredients
One 4-5 lb. pork loin
4 cloves garlic, minced
3 tbsp. fresh herbs
⅓ cup olive oil
1 tsp. salt + more to sprinkle on top
1 tsp. fresh ground pepper + more to sprinkle on top
Instructions
Preheat oven to 450 degrees Fahrenheit.
In a small bowl, combine garlic, herbs, olive oil, salt, and pepper.
Place the pork loin in a large Dutch oven or on a rimmed baking sheet lined with foil.
Rub herb and garlic mixture all over all sides of the pork loin.
Add an additional sprinkle of salt and a few cracks of pepper on top of the pork loin.
Roast in oven for 40-45 minutes until internal temperature is 145 degrees Fahrenheit.
Let rest for 10 minutes prior to slicing and serving.
Enjoy!