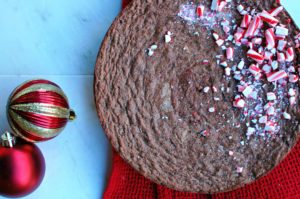 I've decided that every year for Thanksgiving and Christmas, I'm going to make a different dessert for this blog, like this double chocolate pumpkin bundt cake that I made for Thanksgiving. I've always loved making desserts; anytime we are going to a friend's house for dinner, I volunteer to bring the dessert. This may be because I've always had a bit of a sweet tooth, or it may be because I like making something delicious and special to finish off a meal. This year I created a flourless chocolate peppermint cake. It's takes like the most delicious, rich brownie/cake that you've every had!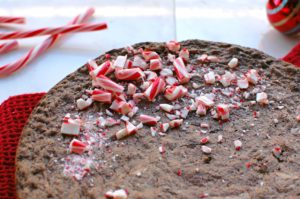 I remember when I growing up in Chicago and going to Christmas dinner with family that my mom also frequently volunteered to bring dessert. No matter what she made, every year it was delicious. I distinctly remember a few years in a row where she would bring Frango mint flourless chocolate cake and to this day it's one of my favorite desserts that I've ever had. Growing up in Chicago, we used to have a department store chain called Marshall Fields that sold these delicious mints. We would buy a box or two to enjoy around the holidays or gift to others and the taste of them not only reminds me of Christmas, but it reminds me of Chicago. Marshall Fields was bought out by Macy's years ago, and you can now buy these mints in their stores or online. During my childhood, however, these mints were something special unique to where I grew up.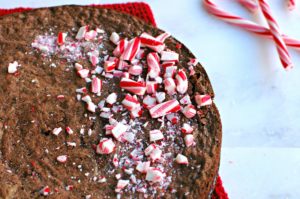 I have three brothers and had a wonderful time growing up doing activities that the whole family enjoyed. I remember for my birthday every year, however, going to downtown Chicago to shop with my mom. We always went to Marshall Fields to have lunch at the Walnut Room on the top floor. Thankfully the restaurant is still there today. It's funny, because I don't ever remember doing much shopping at Marshall Fields! But we loved this restaurant, and we certainly loved their mints.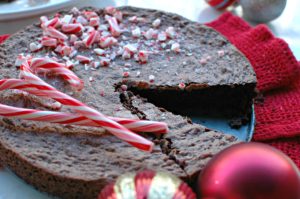 Something about a flourless chocolate mint cake emits a lot of nostalgia for me around the holidays. Perhaps it's my memories of Chicago around Christmas, my family's traditions, my mom's classic dessert, my birthday memories, or a combination of all of it. Even if you don't have Frango mints, you can make a flourless chocolate mint cake for your family to enjoy this Christmas too.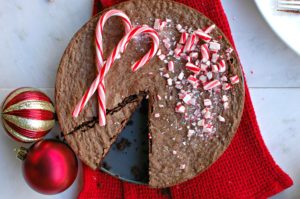 Flourless Chocolate Peppermint Cake
Prep time:
Cook time:
Total time:
Ingredients
4 oz. bittersweet chocolate (not unsweetened)
½ cup (one stick) unsalted butter
⅔ cup cocoa powder (I used Hershey's Special Dark)
¼ tsp. salt
2 tsp. peppermint extract
4 eggs, separated
1 cup granulated sugar
Instructions
Preheat oven to 350 degrees Fahrenheit. Spray a springform pan with non-stick cooking spray.
Melt chocolate and butter together in a double boiler, stirring until smooth. Add cocoa powder and salt and stir until smooth.
Let chocolate mixture cool, then stir in peppermint extract and egg yolks.
Place egg whites in a stand mixer and beat until soft peaks form. Gradually add sugar and beat until soft peaks form.
Using a rubber spatula, gently fold chocolate mixture into egg white mixture.
Pour batter into prepared springform pan. Bake for 30-35 minutes until toothpick inserted into the center comes out clean. It should come out wet as the cake is very dense and moist, but it should not have raw batter on it.