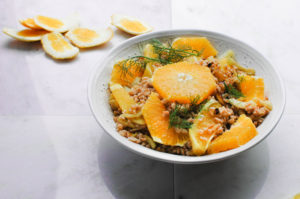 I'm one of those people that gets super excited about the bulk bins of grocery stores. When we used to live in Tacoma, the grocery store we went to had the most amazing bulk food section I've ever been too. I loved it because I could get single serving amounts of grains that I had never tried to experiment and see what I liked. While the grocery store we shop at now does have a bulk food section, it's not as extensive as the one at our previous store. When I buy farro now, I buy it from Trader Joe's because it cooks in 10 minutes and comes in a little bag that's the perfect size.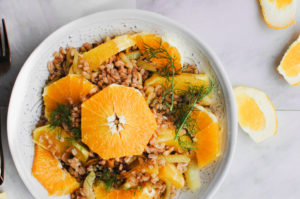 Of all the grains that I started experimenting with, farro is one of my favorites. It's chewy and nutty and holds up really well under a bright dressing like this. You can add it to salads for some texture, enjoy it as a pilaf, or as this side dish with caramelized fennel and oranges.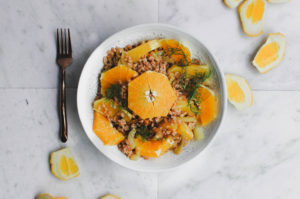 I say this is a side dish, but it could certainly be enjoyed as a light lunch or dinner, or you could even call it a salad. A big scoop of this with some peppery arugula or baby kale sounds like a complete meal to me! The nuttiness and chewiness of the kale pairs so well with the sweet, juicy oranges and spicy fennel.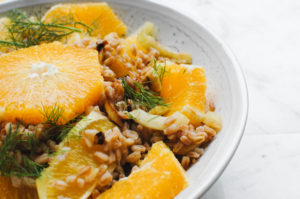 I love having this in the winter when citrus is in season, but I think it would be equally delicious in the summer with some grilled meat. It's begging to be served with grilled chicken or fish. I plan to make this again this weekend to have alongside salmon and a big green salad!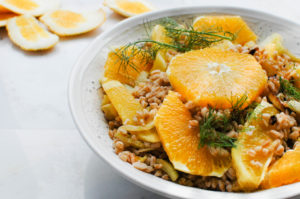 Farro with Caramelized Fennel and Oranges
Prep time:
Cook time:
Total time:
Ingredients
1 cup dry farro
2 cups water
1 fennel bulb, thinly sliced
2 tbsp. butter
1 tbsp. brown sugar
2 oranges, peeled and segmented
1 tbsp. honey
2 tbsp. red wine vinegar
½ tsp. salt
1 lemon, juiced
1 tbsp. olive oil
1 garlic clove, minced
Instructions
Bring water to a boil and add farro. Cook according to package directions until tender. Drain and set aside.
Melt butter in a large pan. Add fennel and brown sugar and cook until fennel is golden brown and has some crispy bits on the edges.
In a small bowl, whisk together honey, red wine vinegar, salt, lemon juice, olive oil, and minced garlic.
Place cooked farro in a large bowl and toss with dressing. Add oranges and gently mix to combine.
Serve immediately.