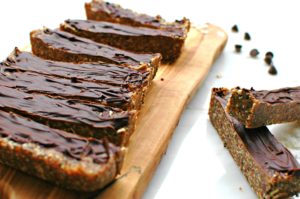 With two young kids, I'm always on the quest for healthy snacks. When we are home, they generally stick to three meals a day with the occasional afternoon snack, but when we have a busy day out or travel, they tend to snack a bit more. Even for adults, making sure your snacking is mindful is important. I'm all for the occasional indulgence, but snacking on something that is good for you and keeps you full will keep you from going back for handful after handful of potato chips or M&M's.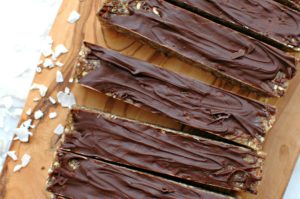 These bars are the ticket. Many of us probably reach for Larabars or Kind bars as a healthy snack, myself included. This is a homemade version of them. Filled with dates, nuts, and oats, they're naturally-sweetened. As long as you use gluten-free oats they are gluten-free, and you can even choose to use dairy-free chocolate chips to keep this dairy free! Even kids with food allergies can enjoy a delicious treat that is safe for them.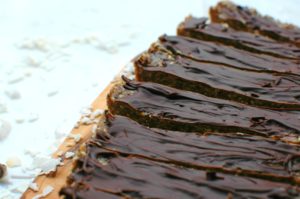 I also put some coconut in these for extra flavor, and chia seeds and flaxseed meal for an extra health boost. These are perfect for that 3pm slump when you just need some energy to get through the day. As soon as the first batch of these that I made of these was gone, I immediately whipped up another batch. I'm not sure who is enjoying these more, the kids or the adults of the house!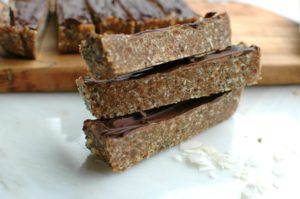 Even though these are naturally sweetened, it makes you feel as though you are eating a candy bar. For those of you with a sweet tooth, you can definitely have more than one of these and still feel good about it! I already know that these will be a staple in our house for years to come; weekend soccer games, family vacations, and hikes all require a healthy snack and these are our new go-to.

Date, Oat, and Coconut Bars
Ingredients
2 cups pitted dates (about 35 dates)
½ cup nuts of choice (I've used almonds and pecans)
½ cup finely shredded, unsweetened coconut
1 tsp. vanilla
1 tsp. cinnamon
¼ cup honey
2 tbsp. chia seeds
2 tbsp. flaxseed meal
¾ cup rolled oats*
½ cup chocolate chips*
Instructions
Place all ingredients except chocolate chips in a food processor and blend to combine, stopping to scrape down the sides with a spatula. The mixture will be sticky!
Spray a loaf pan with nonstick cooking spray and line with parchment paper. Leave enough parchment paper overhanging lengthwise to remove the bars.
Press the mixture down firmly and evenly in the pan.
Melt the chocolate chips in a small bowl in the microwave.
Spread or drizzle chocolate over bars.
Freeze for one hour. Remove from pan, slice, and serve!
Leftovers can be stored in the refrigerator.
Notes
*Be sure to use certified gluten-free if you need to!
*Use dairy-free if necessary.