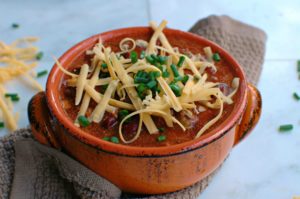 Everyone should have a go-to chili recipe. There are so many versions out there! I love a white chicken chili as much as the next person, this vegan instant pot chili looks amazing, and this buffalo chicken chili is on my menu for next week. Sometimes though, you just need the classic ground beef and bean combination.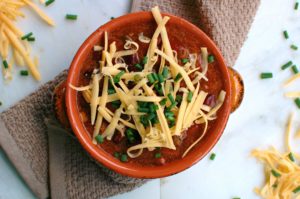 You can serve this for game day, or for a great weeknight dinner that makes enough for leftovers, or for a freezer meal. Really, is there ever not a good time to have a bowl of hot chili? Topped with shredded cheddar cheese, green onions, sour cream, sliced avocado, or whatever your other favorite chili toppings are, it is sure to be a hit. Also, we always have our chili with cornbread. I know oyster crackers are another popular add-in, but cornbread is king in our house.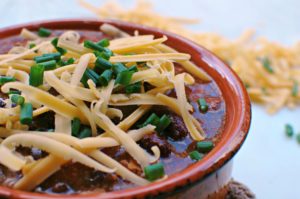 I've been making this chili for years, and this is the first time I've taken the time to write down the recipe. You can certainly customize the seasonings to your liking! I'm a bit of a baby when it comes to spicy food, but if you like you're chili on the hotter side, add in another jalapeño or some extra chili powder.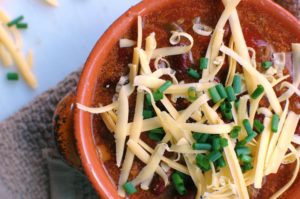 Crock Pot Three Bean Chili
Prep time:
Cook time:
Total time:
Ingredients
2 lbs. ground beef
1 yellow onion, diced
1 green bell pepper, diced
1 jalapeno, seeded and finely diced
3 garlic cloves, minced
1 can black beans, rinsed and drained
1 can dark red kidney beans, rinsed and drained
1 can pinto beans, rinsed and drained
1 28 oz. can tomato sauce
1 28 oz. can diced tomatoes
1 7 oz. can diced green chilis
1 cup beef broth*
2 tsp. salt + more to taste
¼ tsp. ground black pepper
2 tsp. smoked paprika
1½ tsp. chili powder
½ tbsp. cumin
½ tbsp. dried oregano
Instructions
In a large pot, brown ground beef. Add garlic, onion, jalapeño, and bell pepper and cook until onions are translucent.
Add all ingredients to a crock pot. Stir to combine.
Cook on low for 8-10 hours.
Taste, adjust seasonings, and enjoy!
Notes
* depending on the saltiness of your broth you may want to adjust the added salt accordingly!