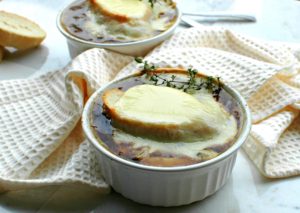 Yes, you read that correctly, French onion soup in the crock pot! French onion soup is one of my absolute favorite soups, but to bring out maximum flavor, you really need some time for the onions to caramelize and for the soup to come together. Sounds like a task for one of my favorite appliances, the Crock Pot!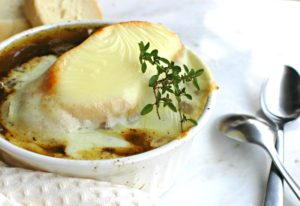 I mentioned on the blog a while ago that I'm a forever customer of Crock Pot due to their amazing customer service. Not long after Easton was born and I was back in the kitchen, a lot of the meals that I planned involved the crockpot since I was a busy new mom of two. Unfortunately, the Crock Pot that we had for about 4 years suddenly stopped working. I contacted Crock Pot and they sent me a new one completely for free, and I send my broken Crock Pot to them with a pre-paid shipping label to allow them to determine what the malfunction was to improve it for future customers.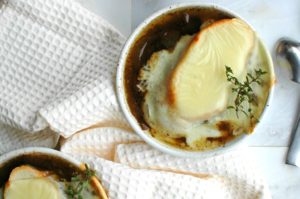 And the best part? I didn't have to beg for a new Crock Pot or wait for a long time on hold to speak to someone from customer service. I was hoping they could just tell me how to fix my Crock Pot and instead they sent me a new one. I handled the whole thing through their website using the online chat function and it was so easy! Crock Pot has a customer for life.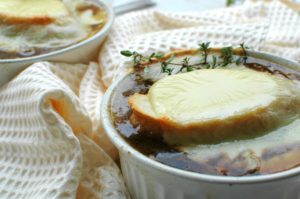 This post isn't sponsored by Crock Pot, by the way, I just absolutely love their products and the company. Now back to this soup! The onions take about 8 hours on low in the Crock Pot to caramelize. You can start them really early in the morning or do what I did and make them overnight. Once the onions caramelize and you add the rest of the ingredients it takes another four hours in the Crock Pot. I realize this is a lot of time, but it's all hands off! There's only about 10-15 minutes of prep time, depending on how long it takes you to slice 4 lbs. of onions. For me, it takes a while because I turn into a crying baby when I chop onions.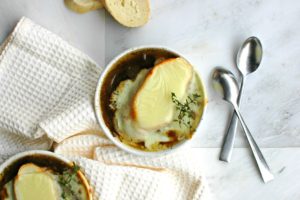 Putting the soup into bowls and topping them with French bread and cheese is optional, but very much encouraged. The bread and cheese make this soup even better! As an appetizer or a main dish with a green salad, this soup is comfort food at its finest.

Crock Pot French Onion Soup
Ingredients
4 lbs. onions, yellow, sweet, or a mix of both
½ cup butter
1 tsp. salt
8 cups beef broth
1 tsp. ground thyme
2 tbsp. balsamic vinegar
Sliced French bread
Sliced provolone cheese
Instructions
Cut onions in half and then thinly slice. Place in crock pot with butter and salt. Cook on low for 8 hours.
After 8 hours, add beef broth, thyme, and balsamic vinegar to the crock pot. Cook on low for another 4 hours.
Preheat oven to 350 degrees Fahrenheit. Place soup into oven-safe bowls or dishes on a rimmed baking sheet and top with a slice of French bread and 1-2 slices of cheese.
Bake for 10-15 minutes until cheese is melted.
Enjoy!