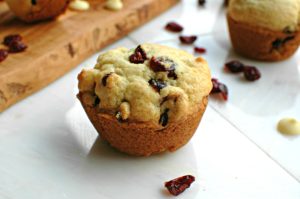 Who doesn't love a good muffin? My banana almond butter muffins and carrot zucchini muffins are both naturally sweetened and delicious, but these are a little bit more indulgent with granulated sugar and a little oil. Muffins are one of my favorite breakfasts. I can always make a double batch and freeze the leftovers, and they're so easy to pop in front of my toddler for breakfast while I'm also wrangling a baby.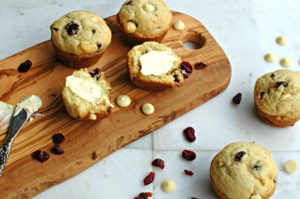 I also wanted to create a muffin recipe that uses dried cranberries. Want to make these in the summer with dried cherries and dark chocolate chips? Go for it. Feeling like you want to omit the chocolate and add dried blueberries? Do that! Fresh cranberries aren't available year round but dried cranberries make this recipe a snap any time of year.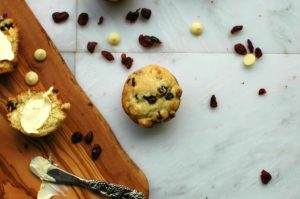 The holidays are quickly approaching, which usually leads to lots of visitors as well as holiday parties. You can certainly make these to keep on hand whenever you have visitors and they make an equally wonderful hostess gift if you are going somewhere for a holiday dinner. I read an article once about great hostess gifts that discussed how people will bring a bottle of wine for dinner. The article recommended bringing something for breakfast for your host/hostess for the next day. After a busy day preparing for guests, they would surely enjoy a breakfast the next day that required no planning. How great of an idea is that?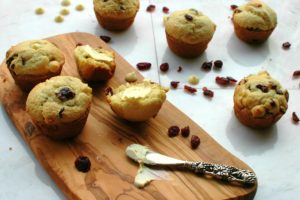 These muffins would make the perfect hostess gift, and the perfect quick breakfast to keep around during the holidays. Go ahead and make a double batch because they won't last long!

Cranberry White Chocolate Muffins
Prep time:
Cook time:
Total time:
Ingredients
⅓ cup oil
½ cup milk
1 egg
1 tsp. vanilla
2 cups all-purpose flour
½ cup granulated sugar
2 tsp. baking powder
½ tsp. salt
½ tsp. baking soda
¾ cup dried cranberries
½ cup white chocolate chips
Instructions
Preheat oven to 350 degrees Fahrenheit.
Spray 10 cups of a muffin tin with nonstick cooking spray.*
In a small bowl, whisk together oil, milk, egg, and vanilla.
In a separate bowl, whisk together flour, sugar, baking powder, salt, and baking soda.
Add wet ingredients to dry ingredients and mix until just combined.
Fold in dried cranberries and white chocolate chips.
Bake for 20-25 minutes until a toothpick inserted into the center comes out clean
Notes
*I like my muffins to be a little larger, which is why I make 10. If you want a smaller muffin go ahead and prepare all 12 cups of the muffin tin!
Like what you see? Pin it here!