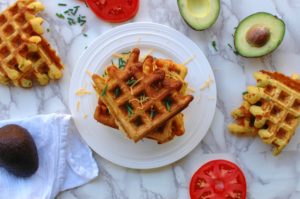 Let me tell you, savory waffles are a revelation. The first time I was even exposed to a savory waffle was at Nero Belgian Waffle Bar in Vancouver, British Columbia. Kevin and I went to Vancouver a few years ago and fell in love with the city. After doing this hike, we had definitely earned a hearty breakfast and were committed to stuffing our faces with waffles. While I got a delicious waffle topped with ice cream and chocolate, Kevin got a savory waffle topped with a spicy tuna salad and soft-boiled egg. It was incredible.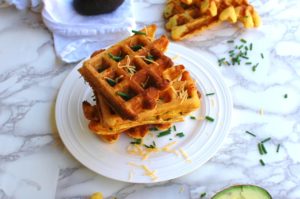 If you're ever in Vancouver, I highly recommend stopping at this place for breakfast. Just look at their menu! How do you order just one? We would love to go back to Vancouver next year with the boys and this restaurant will definitely be one of our stops.
These waffles are made with cornmeal and packed with cheddar cheese and chives. I love the texture that cornmeal gives baked goods, like in this recipe. With a crispy exterior and cheesy, chewy, interior, you may forget that you ever ate waffles with maple syrup.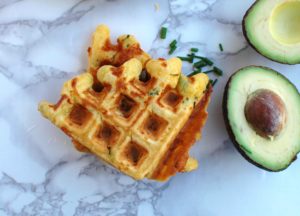 Since you're not topping these with maple syrup or whipped cream (or maybe you are, you do you and I won't judge!), you might be wondering what to put on top of these. Avocado, sliced tomato, sour cream, bacon, tuna salad, smoked salmon, poached eggs, and on and on. The world is your oyster! We enjoyed these sandwich-style as BLTs for dinner and I may never use regular boring old bread for BLTs again.

Cornmeal Cheddar Chive Waffles
Prep time:
Cook time:
Total time:
Ingredients
1½ cups all-purpose flour
1 cup yellow cornmeal
½ tsp. baking powder
1 tbsp. sugar
1 tsp. salt
3 eggs
½ cup sour cream
2 tbsp. neutral oil, such as canola or vegetable
6 tbsp. butter, melted and cooled slightly
1 cup shredded cheddar cheese
½ cup snipped chives
Non-stick cooking spray
Instructions
Turn on your waffle iron and let it get hot while making the batter.
In a medium bowl, whisk together flour, cornmeal, baking powder, sugar, and salt.
In a large bowl, whisk together eggs, sour cream, oil, and melted better.
Add dry ingredients to wet ingredients and combine.
Fold in cheese and chives.
Once hot, spray the waffle iron with non-stick cooking spray and pour about ⅓ of the batter onto the iron.* Cook until your desired degree of brown-ness.
Serve immediately! Leftovers can be frozen. Be sure to use a piece of parchment paper between waffles to prevent them from sticking.
Notes
*Waffle irons don't come in a standard size. You may be worked with a Belgium waffle maker or a smaller one for crispier, flatter waffles. Use your best judgement for the amount of batter to pour onto the pan without causing it to overflow.