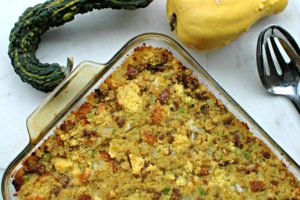 Stop the presses. This is the Thanksgiving dressing to end all dressings. Are you on Team Dressing or Team Stuffing? In our house we're on Team Dressing. I've been making this recipe for years and tasting as I go, but this is the first time I've written it down. I like making dressing over stuffing because I like having a huge pan of it like this, and also prefer the taste of it having baked outside of the turkey. It has the most delicious crispy crust and is full of the best fall flavors.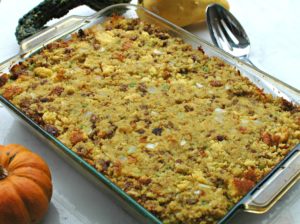 Kevin told me last night while we were enjoying leftovers of this exact dish that he didn't really like dressing until he had mine. I took this as a huge compliment and consider this dressing recipe perfected. This recipe makes a 13 x 9 pan and even though Kevin and I are the only people over the age of 2 in our house, we don't get sick of as we enjoy leftovers for days. But since this recipe uses two pounds of sausage and two batches of cornbread, you can easily cut the recipe in half. You can also make this recipe the day before Thanksgiving, or at least the cornbread the day before, to free up some time on the holiday itself.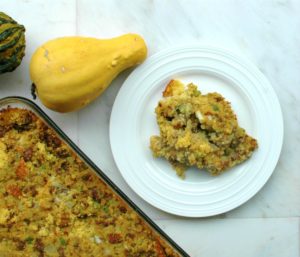 Our staple side dishes for Thanksgiving are this recipe, my twice-baked mashed potatoes (recipe coming soon!), cranberry sauce, and balsamic roasted Brussels sprouts (recipe also coming soon!). I know that green bean casserole is very traditional for Thanksgiving, but I rotate between serving that for Thanksgiving and for Christmas. I'm the only one in the house who really likes cranberry sauce, but I make this recipe with the leftovers, which everyone loves.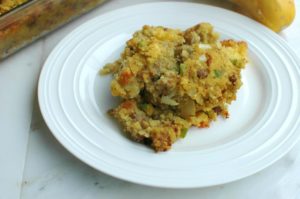 I promise that if you make this recipe, you'll never go back to another dressing recipe again. Some people like chestnuts, dried fruit, mushrooms, or other add-ins in their dressing. Go ahead and add those if you like them! But as written below, this recipe is perfection and exactly how I make it. Happy Thanksgiving!

Cornbread Sausage Dressing
Cuisine:
Thanksgiving side
Prep time:
Cook time:
Total time:
Ingredients
2 lbs. pork sausage
4 stalks celery, diced
1 yellow onion, diced
4 cloves garlic, minced
2 tsp. ground sage
2 tsp. ground thyme
2 tsp. salt
½ tsp. ground black pepper
4 cups chicken or turkey stock
For the Cornbread:*
2 cups cornmeal
2 cups all-purpose flour
½ cup granulated sugar
2 tsp. salt
2 tbsp. baking powder
2 cups milk
⅔ cup vegetable or canola oil
2 eggs, lightly beaten
Instructions
Preheat oven to 400 degrees Fahrenheit. Spray two 8 or 9 inch cake pans with nonstick cooking spray.
In a large bowl, whisk together flour, cornmeal, sugar, 2 tsp. salt, and baking powder.
In a medium bowl, which together milk, oil, and eggs.
Add wet ingredients to dry ingredients and whisk to combine. Distribute between two prepared cake pans and bake for 20-25 minutes until a toothpick inserted into the center comes out clean. Remove from pans and set aside to cool.
Meanwhile, place sausage in a large pot to brown, breaking into small pieces as it cooks. Add celery, onion, and garlic and cook until onion is translucent.
Crumble cornbread and add to sausage mixture. The pieces do not need to be uniform in size, but you do not want any pieces that are too large.
Add sage, thyme, 2 tsp. salt, and black pepper to cornbread sausage mixture and mix to combine.
Spray a 13 x 9 baking dish with nonstick cooking spray and add cornbread sausage mixture to dish.
Pour chicken or turkey stock over mixture and mix gently to combine.
Press down on the mixture slightly with a spatula or wooden spoon.
Reduce oven heat to 350 degrees Fahrenheit and bake for 35-40 minutes until the top is golden brown.*
Enjoy alongside your Thanksgiving turkey and topped with gravy!
Notes
* If you choose to use a cornbread mix or purchase pre-baked cornbread for convenience, the recipe will still work, you will just need to ensure you have the correct amount of cornbread. This is a double recipe of my cornbread. Plan to purchase two cornbread mixes or two fully baked cornbreads from your store's bakery counter if you will not be making it from scratch.
* If you are cooking this from refrigerator temperature it will need an additional 10-15 minutes of cooking time to thoroughly heat through. You can also allow the dressing to come to room temperature before baking.
* This makes a large recipe for dressing and the leftovers keep well. If this is too much dressing for you, this recipe can be easily cut in half and baked in a smaller dish.
Like what you see? Pin it here!