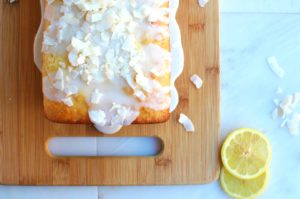 Traditional pound cake got its name because it contained a pound of flour, a pound of butter, a pound of eggs, and a pound of sugar. It makes for a dense, rich cake that is the perfect base for some fresh berries and whipped cream. I veered a little bit away from traditional pound cake because that is a LOT of butter and sugar. While this cake still has butter (because sometimes you just need a little butter), I also added some Greek yogurt to keep the cake moist while cutting a few of the calories.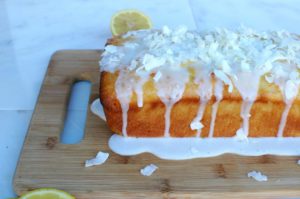 I also love the coconut and lemon flavor combination. The zest of the lemon is the perfect flavor to add to the rich cake and the coconut in the batter makes for a nice change in texture. The creamy lemon glaze topped with flaked coconut rounds out the cake and will make you want to eat slice after slice. I think it's a good idea to eat this for breakfast!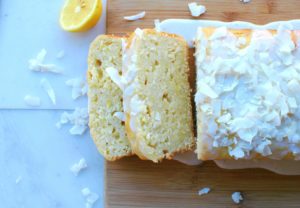 Anytime Lleyton sees me eat anything, he asks for the "last bite." Even if I'm just sitting down and haven't started eating, he'll say "last bite, last bite," until I'm done and he does get the last bite. Needless to say, he was thrilled when he saw me eating this and could have the last bite of such a delicious cake. He enjoys just about everything I make on this blog, but his favorite recipes are the banana almond butter muffins and carrot zucchini muffins.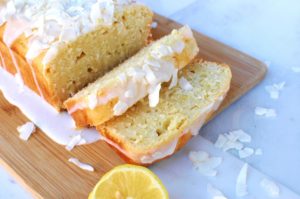 I hope you make this recipe for dessert, breakfast, or to have out as a snack while you have guests in town. If you like coconut and lemon, you'll love this cake!

Coconut Lemon Pound Cake
Prep time:
Cook time:
Total time:
Ingredients
½ cup (1 stick) unsalted butter, softened
1⅓ cups granulated sugar
3 eggs
½ cup plain Greek yogurt
½ tbsp. lemon zest
1½ cups flour
1 cup shredded coconut, divided
¼ tsp. salt
¼ tsp. baking soda
1 cup powdered sugar
1-2 tbsp. lemon juice
Instructions
Preheat oven to 350 degrees Fahrenheit. Spray a loaf pan with nonstick cooking spray and line with parchment paper for easy removal of the cake.
Cream together butter and sugar in a stand mixer until light and fluffy, about 8-10 minutes.
Add eggs, one and a time, beating thoroughly after each addition.
Add Greek yogurt and lemon zest and mix again.
In a medium bowl, whisk together flour, ½ cup of the coconut, salt, and baking soda.
Add dry ingredients to wet ingredients and mix until just combined.
Pour batter into prepared pan.
Bake for 45-55 minutes until a toothpick inserted into the center comes out clean. Remove cake from pan and allow to cool completely.
Combine powdered sugar and 1 tbsp. of lemon juice, adding more lemon juice as needed until the desired consistency for the glaze is reached.
Drizzle glaze over cake and sprinkle with the remainder of the coconut.
Cake is best enjoyed within a few days.
Like what you see? Pin it here!