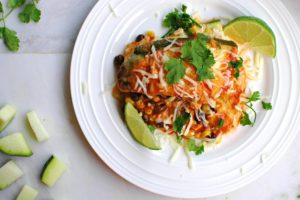 After Easton was born, I was fortunate enough to have plenty of friends who brought us meals. With two boys under two, cooking dinner was just a bridge too far. Some of my closest friends from high school even ordered us food and had it delivered right to our front door! One of my best friends out in Washington came over a few days after Easton was born and brought us PANS of chicken enchiladas, one for the freezer and one for dinner that night. We were so spoiled with other treats and goodies from her too, and they were the best chicken enchiladas I've ever had.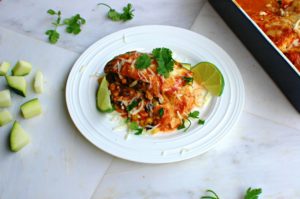 This chicken enchilada casserole is also pretty delicious. Zucchini is such a versatile vegetable and I love thinly slicing it so it resembles lasagna noodles. It gives you a low-carb dinner option that can be made in advance, and also sneaks in some extra vegetables. Speaking of sneaking in extra vegetables, have you tried my carrot zucchini muffins? Bonus points for starting the day with some vegetables! My kids can't stop eating them.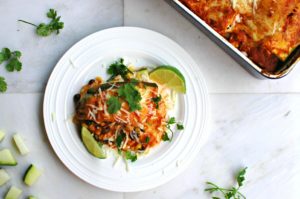 Because this casserole doesn't have tortillas in it, which can get soggy if you make enchiladas in advance, it's great for meal prepping for those busy weekday nights. I made homemade enchilada sauce for this, but you can certainly substitute your favorite store-bought version if you need to save time.

Chicken Enchilada Zucchini Casserole
Prep time:
Cook time:
Total time:
Ingredients
4 chicken breasts, cooked and shredded
1 large zucchini or 2-3 medium zucchini*
2 cups shredded cheese of choice
1 can black beans, rinsed and drained
1 can corn, rinsed and drained
Enchilada Sauce:
2 tbsp. all-purpose flour
2 tbsp. olive oil
2 tsp. cumin
¼ tsp. ground black pepper
1 tsp. garlic powder
½ tbsp. oregano
⅛ tsp. cinnamon
1 tsp. Worcestershire sauce
½ tsp. onion powder
2 cups vegetable or chicken broth
2 tbsp. tomato paste
½ tsp. salt
Instructions
Preheat oven to 350 degrees Fahrenheit.
In a medium bowl, mix together chicken, corn, and black beans.
In a saucepan on the stove, heat olive oil. Add flour and whisk to combine. Add the rest of the ingredient and cook until bubbling and thickened. This won't take long, so be sure to continue to whisk frequently to prevent sticking.
Spray a 9 x 13 baking pan with non-stick cooking spray.*
Spread a thin layer of enchilada sauce on the bottom of the pan and top with a layer of zucchini "noodles." Top with half the chicken mixture and add more sauce. Repeat layers until zucchini and chicken are gone.
Top with the remainder of the enchilada sauce and shredded cheese.
Bake for 30-35 minutes until bubbling.
Let cool 10 minutes before slicing and serving.
Notes
* I bought a baseball-bat zucchini from the farmer's market and used about half of it. If you're using smaller zucchini, you will need at least 2, possibly 3.
* I used an 8 x 12 pan but I realize this can be an unusual size. 9 x 13 will work fine if you don't have one.