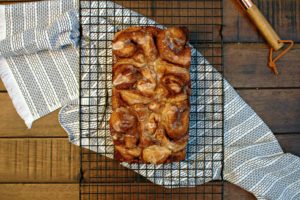 Hello to the perfect breakfast bread. I'm trying not to exaggerate, but it really is that good! I'm a huge fan of chai tea and chai tea lattes, but I haven't had caffeine since I was pregnant with our first child (with the exception of when I run ultramarathons) and it's hard to find a place that makes a decaf chai tea latte! I keep decaf chai tea in our pantry, but chai flavor is one of the things I crave when the weather cools down. It's right up there with my love of pumpkin in the fall and cranberries in the winter.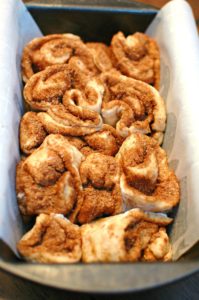 Before having kids, we used to ski and snowboard frequently in the winter. Kevin skis, and I snowboard. We live about 45 minutes from a great ski resort in Washington, Crystal Mountain. It's so close to Mt. Rainier that you can practically touch it. Now that we have two kids who are a little too young for ski lessons still, we're on the mountain a lot less. One of my favorite parts about a day on the slopes was the drive home. We always stopped at this drive-thru coffee shop called Lift. They make the absolute best chai tea lattes I have ever had and sipping one after a fun day on the mountain was absolutely perfect.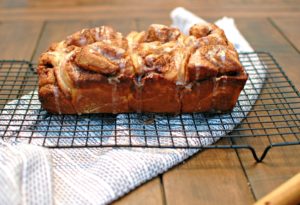 Someday when skiing and snowboarding is a regular winter tradition for our family, I definitely plan to indulge. Until then, I'll be enjoying this bread, loaf by loaf.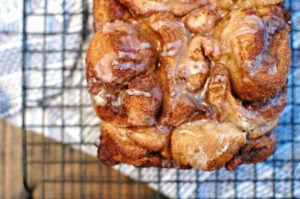 Chai Cinnamon Roll Bread
Prep time:
Cook time:
Total time:
Ingredients
For the buns:
3½ cups all-purpose flour
5 tbsp. granulated sugar
1 tsp. baking powder
½ tsp. baking soda
½ tsp. salt
1 tsp. cinnamon
½ tsp. cardamom
1 cup buttermilk*
2 tbsp. melted butter, cooled slightly
⅓ cup honey
For the filling:
4 tbsp. melted butter, cooled slightly
⅓ cup brown sugar
¼ cup granulated sugar
1 tbsp. cinnamon
½ tbsp. cardamom
½ tsp. cloves
1 tsp. nutmeg
¼ tsp. ground black pepper
For the glaze:
1 cup powdered sugar
1-2 tbsp. milk
½ tsp. cinnamon
Instructions
In a large bowl, whisk together flour, 5 tbsp. granulated sugar, baking soda, salt, 1 tsp. cinnamon and ½ tsp. cardamom.
In a small bowl, whisk together buttermilk, 2 tbsp. melted butter, and ⅓ cup honey.
Add wet ingredients to dry ingredients and mix to combine. Using floured hands, remove dough from bowl and place in plastic container. Add more flour if dough is still too sticky to remove. Refrigerate for at least one hour or overnight.
Preheat oven to 425 degrees Fahrenheit. Spray a loaf pan with nonstick cooking spray and line with parchment paper as shown in the picture above for easy removal of the bread.
For the filling, combine brown sugar, ¼ cup granulated sugar, 1 tbsp. cinnamon, ½ tbsp. cardamom, ½ tsp. cloves, 1 tsp. nutmeg, and ¼ tsp. ground black pepper.
Roll the dough onto a floured surface, shaping it into a large rectangle that is about ¼ inch thick. Spread 4 tbsp. melted butter onto dough and top with filling.
Carefully roll the dough up as you would a cinnamon roll and cut into 2 inch wide segments. Place these rolls, swirl side up, into prepared loaf pan. It's ok if they aren't perfect rolls or if they need to be pushed close together in the pan. It will bake up beautifully.
Bake for 25-30 minutes until golden brown and a toothpick inserted into the center of the loaf comes out clean.
Let cool at least 10 minutes before carefully removing from pan.
In a small bowl, combined powdered sugar, 1 tbsp. milk, and ½ tsp. cinnamon. Add more milk to reach desired glaze consistency. Drizzle over warm bread.
This bread can be pulled apart or sliced and is most delicious when eaten warm.
Notes
* If you don't have buttermilk, add 1 tbsp. vinegar to a liquid measuring cup and fill to the 1 cup line with milk (I use whole milk) and let sit a few minutes before proceeding with the recipe.