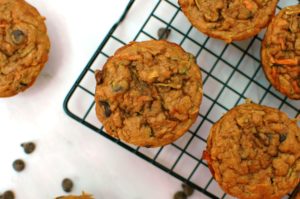 Is it too much to ask that breakfast be both easy and healthy? I don't think it is. I am all about taking the time to do a little bit of prep work to make sure our mornings can start smoothly. With a baby and toddler who both expect to be fed the second they get out of bed in the morning, I'm thankful I can give one of these naturally sweetened muffins that are also packed with veggies to Lleyton while I'm nursing Easton.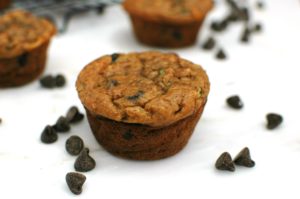 If you follow me on Instagram (which you totally should!), you saw that I recently flew to Chicago with both kids while Kevin was gone for some Army training. Prior to the trip I wanted to get rid of any food that would go bad before we came back and conveniently had carrots, zucchini, and ripe bananas. I whipped up a batch of these muffins and put them in the freezer. Now that we're back home in Washington, I'm so thankful that I did.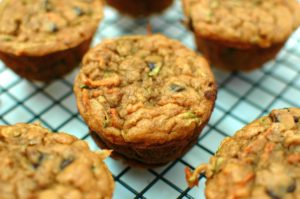 I love that these muffins have both carrots and zucchini in them, and that they're naturally sweetened with ripe bananas. A convenient, portable breakfast that has both vegetables and fruit in it and my toddler gobbles up? Sign me up. Breakfast for the whole family is served!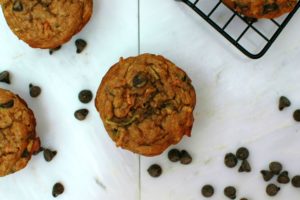 Carrot Zucchini Muffins
Prep time:
Cook time:
Total time:
Ingredients
1 cup shredded carrot
1 cup shredded zucchini
2 ripe bananas, mashed
1 egg
½ cup plain Greek yogurt
⅓ cup honey
2 tbsp. oil
1 tsp. baking soda
1 tsp. vanilla
¼ tsp. salt
1½ cups whole wheat flour
½ cup chocolate chips
Instructions
Preheat oven to 350 degrees Fahrenheit and spray a muffin tin with nonstick cooking spray.
In a medium bowl, combine banana, egg, Greek yogurt, honey, oil, and vanilla.
Add shredded carrot and zucchini and stir to combine.
In a separate bowl, whisk together flour, salt, and baking soda.
Add dry ingredients to wet ingredients.
Fold in chocolate chips.
Distribute evenly between muffin cups in prepared pan.
Bake for 22-25 minutes or until a toothpick inserted into the center comes out clean.
Allow to cool for 5-10 minutes before removing from pan.
Notes
I used a food processor for easy shredding, but you can certainly use a box grader as well.
 Like what you see? Pin it here!