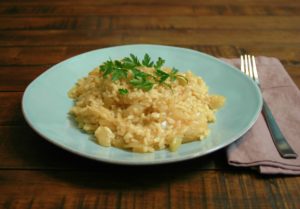 The handsome guy I'm married to grew up just outside of Atlanta. Prior to meeting him, my knowledge of the South was very limited, but over the course of us being together, I've grown to love and appreciate so many things about an area of the country that I had really known nothing about. Naturally, I've developed an appreciation for the food too. BBQ, Chick-fil-A, grits, Georgia peaches, and of course, vidalia onions. I actually had never had Chick-fil-a or grits before Kevin and I met! Obviously I was missing out. My brother-in-law was kind enough to send us a whole box of vidalia onions last week, and I knew I needed to make them into something special where the onion flavor could really shine.
I LOVE caramelized onions. They take a bit of time to make, but I could put them on just about anything. This risotto has a lot of them in it, but you're welcome to tone it down a little bit if your love of caramelized onions isn't as strong as mine. Don't be overwhelmed by seeing them all in the pot! They do cook down into sweet, sugary goodness.

Caramelized Onion Risotto
Prep time:
Cook time:
Total time:
Ingredients
5 sweet onions (I used vidalia)
2 gloves garlic, minced
4 tbsp. olive oil
2 cups arborio rice
1 cup white wine
4-5 cups chicken stock
1 tsp. salt
¼ tsp. pepper
¼ tsp. allspice
¼ cup parmesan cheese
Instructions
Melt butter in a large pot. While butter is melting, halve and thinly slice onions.
Add onions to pot and season with a pinch each of salt and pepper.
Turn heat to medium-low and stir occasionally as the onions caramelize. This should take about 40 minutes. Once caramelized, remove from pot and set aside.
Add olive oil and minced garlic to pot, stirring until fragrant, about 1-2 minutes.
Add rice to pot and stir to toast for 4-5 minutes.
Add white wine to pot and allow to reduce.
Once white wine has reduced, add chicken stock cup by cup, allowing rice to absorb it after each addition.
When the rice is tender, season with salt, pepper, and allspice.
Add onions back to pot.
Add parmesan cheese to pot and stir until melted.
Enjoy!