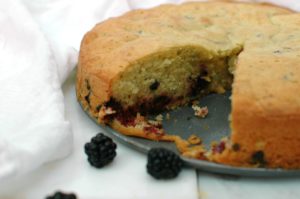 There are a lot of things to love about living in the Pacific Northwest, but one of the things I love about the summers are the blackberry bushes that are everywhere! Picking blackberries can be dangerous business because of their gnarly thorns, but I think it's absolutely worth it to enjoy these delicious summer berries. In my lavender lemon scones post, I mentioned taking the boys on a daily walk where I can pick lavender. It's on this same walk route that I can pick blackberries!
Naturally some of these berries went right into Lleyton's mouth and didn't make it into our bag to take home. But the ones I did manage to take home belonged in a summer dessert to let them shine.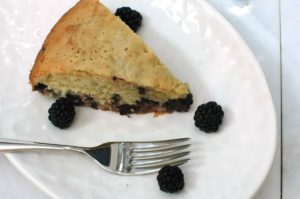 Some of you may be seeing that this is an olive oil cake and think that sounds strange because you associate olive oil with savory dishes. When baked into a cake, the floral, fruity flavor of the olive oil comes out and is the perfect compliment to the juicy and sweet summer fruit. I used high-quality extra virgin olive oil to maximize that flavor. Once you make this cake you'll be a convert to olive oil cakes!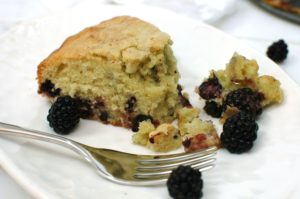 Blackberry Olive Oil Cake
Prep time:
Cook time:
Total time:
Ingredients
3 eggs
¾ cup granulated sugar
¾ cup extra-virgin olive oil
1 tbsp. lemon zest
1½ cups all-purpose flour
1 tsp. baking powder
¼ tsp. salt
2 cups fresh blackberries
Instructions
Preheat oven to 350 degrees Fahrenheit. Grease and flour a nine-inch springform pan.
Using a mixer, beat the eggs and sugar until light and fluffy, about 10 minutes (a stand mixer works great for this!).
Add olive oil and beat again until light and fluffy, about 5 minutes.
Add lemon zest and beat again.
In a small bowl, whisk flour, baking powder, and salt.
Using a spatula, fold dry ingredients into wet ingredients.
Fold blackberries into batter, being careful not to over-mix.
Pour batter into prepared baking pan and bake for 30-35 minutes until a toothpick inserted into the center comes out clean.
Allow to cool before removing outer ring from springform pan.