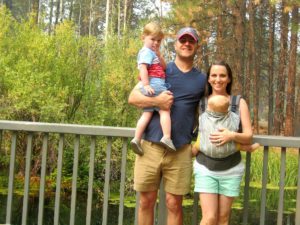 Over Labor Day weekend we took our first vacation as a family of four to Bend, Oregon! Kevin and I first wanted to go to Bend a few years ago for Valentine's Day but were turned around due to snow. We were so happy to make this trip with our boys because it is such a fun town with a lot of family-friendly activities.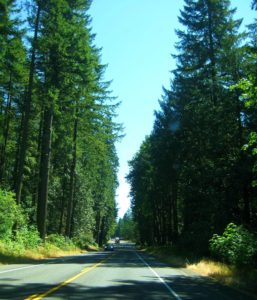 As much fun as we had, this trip almost didn't happen. The kids had a stomach virus the week before the trip, which conveniently they gave to me the day before we left. Needless to say, I was in rough shape, and the 6 hour drive did not sound appealing. I knew we wouldn't get a refund on our Airbnb, and I also knew that I should be feeling better the following day, so Kevin was a rockstar getting the kids ready and we hit the road. The first day of our trip (Friday) was our five year anniversary and we wanted to have a great day despite me being under the weather! If you want to read about how Kevin and I met or how we have spent our previous four anniversaries, you can find that here.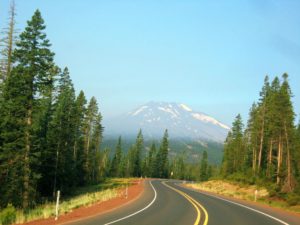 The drive to Oregon is absolutely beautiful, especially once you get south of Portland and head further into Oregon. Views of Mt. Hood, trees lined with evergreens for miles, and a blue sky made the long drive very scenic. We've been to Oregon multiple times, and it seems that every time we go we hit a lot of traffic, but thankfully the drive home always seems to go a little faster than the drive south.
Once we got there and checked into our amazing Airbnb, we let the boys relax and stretch out after the long drive before going to Trader Joe's to stock the kitchen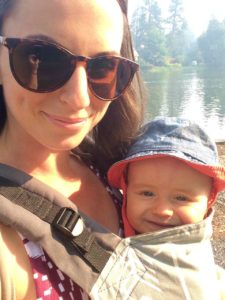 and grab an early dinner. We've found that while vacationing with young kids, two things make the trip a lot more enjoyable. First, we stay in an Airbnb. Both kids take naps and go to bed at 7 p.m. and having a small condo or apartment with two bedrooms means that the kids can sleep while Kevin and I enjoy some downtime ourselves. This particular Airbnb had two bedrooms, and the second bedroom was on a second floor as a loft. We put the boys in the bedroom with the door and even though it was the first time they had share a room, they did great! Another reason we love an Airbnb is the space and the kitchen. The second thing we do to make the trip more enjoyable is plan to eat just one meal out a day. Restaurants try kids' patience and trying to do it for more than one meal a day is stressful for everyone. Trader Joe's has a lot of great, healthy options that we can keep where we're staying, and it allows us to have stress-free breakfasts and lunches where we are staying and enjoying a local restaurant for dinner.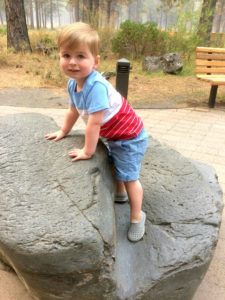 Our first night, we went to 10 Barrel Brewing Company. Of all the places we went to, this was probably our least favorite. There was nothing wrong with the beer or the food, but we enjoyed the other places we went much more. We agreed after the fact that it probably would have been smarter to eat at our Airbnb because both kids were exhausted from the trip, but we decided to go out since it was our anniversary. In the future, when we have a long drive we will definitely plan to have our first dinner where we are staying instead of braving a restaurant, at least while we have young kids.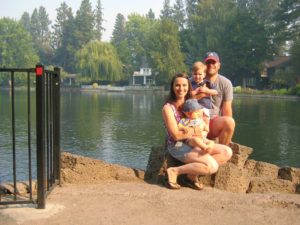 After a good night of sleep for all of us, we were ready for a day of fun in Bend! We started the day with a drive to Mt. Bachelor. If the kids were a little older, we would have taken the ski lift to the restaurant higher up the mountain to enjoy the views, but it was nice just to see the mountain up close. We then went to Drake Park right on the Deschutes River to enjoy the scenery. People were stand-up paddle boarding, canoeing, and floating on inner tubes down the river. Bend is known for its microbreweries, but before tasting some beer we went to Humm Kombucha for a tasting there. Before we headed back to our condo for the boys to have lunch and take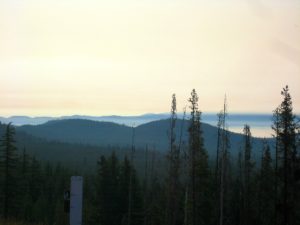 afternoon naps, we enjoyed beer tastings at Boneyard Beer and Cascade Lakes Brewery. Cascade Lakes had a delicious cherry blonde ale that was one of my favorites of the trip.
Going back to our condo for the boys to nap meant that we missed out on a few hours of exploring Bend, but from experience we know that a vacation won't be enjoyable for any of us if the kids are overtired. It also makes sure that we don't spend the entire vacation running from place to place to see and do everything. Taking an afternoon break gives Kevin and I time to relax too, making it a win for everyone.
When the kids woke up, we headed to the Deschutes Brewery tasting room. Deschutes is probably Bend's most well-known brewery and the have both a tasting room and brew pub in the city. Every guest who is 21+ gets four free tastings of their choice at the tasting room! We made this a quick stop before dinner at Barrio, which was delicious and definitely a restaurant that I would recommend. After an early dinner we headed back for the boys to go to bed.
Sunday was our second full day in Bend, and we started the day at the High Desert Museum and were thoroughly impressed. The museum had outdoor exhibits, an incredible birds of prey exhibit where we could see bald eagles up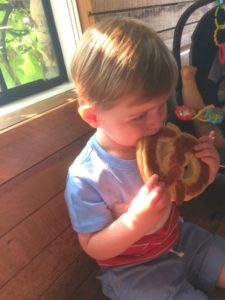 close, animals, historical exhibits, etc. We were there for about two hours and it was well-worth our time. It's an enjoyable stop for everyone, and is definitely a great place for kids to explore. After running around the museum, Lleyton was clearly ready for a snack, and we stopped at Sparrow Bakery. They are probably most famous for their ocean roll, which is like a croissant crossed with a cinnamon roll but also has a chai flavor. Everything looked so good though; the pastries were fantastic and while waiting for our order we saw sandwiches coming out that looked delicious. Being a city that has a healthy appreciation for good drink (there are over 25 breweries, distillers, hard cider mills, and wine tasting rooms) , it also clearly appreciates good food. After the bakery we stopped at Crux Fermentation Project, which was our favorite brewery of the trip. We didn't order food, but they had a full menu as well as food trucks outside, so we definitely had the option to eat if we wanted.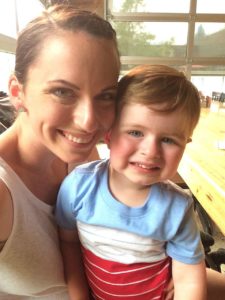 After nap time we made a stop at Good Life Brewing, which was also a great brewery, and our fifth and final brewery of our trip. We had initially planned to go out to dinner, but we knew that the kids were tired and opted to bring dinner back instead to enjoy after the kids went to sleep. We ordered from Spork, which was absolutely delicious. I had the shredded pork rice bowl with cucumber salad and I ate every last bite.
We wanted to get an early start on Monday morning and headed out to breakfast as soon as the kids woke up. We went to Chow and had the most amazing breakfast. I had a crispy polenta cake topped with spinach, olive tapenade, poached egg, and bearnaise sauce with bacon cheddar grits on the side. It was incredible, and possibly one of the best breakfasts I've ever had. Chow is also open for lunch and I highly recommend stopping here for a meal if you're ever in Bend.
Thankfully, our drive home went smoothly with minimal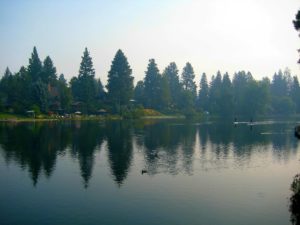 traffic and one stop halfway through the drive. There is so much to do in Bend that we could have easily spent another day, but it felt good to be home and the boys seemed very happy to be back in their own beds.
We obviously did this trip with two young kid and planned our activities accordingly, but if you are traveling without kids or with older kids, there is even more that you can do in the area. If you travel in the summer, there are endless hiking trails and Crater Lake National Park is just two hours from Bend. There are also lots of activities that you can enjoy on the Deschutes. In the winter, there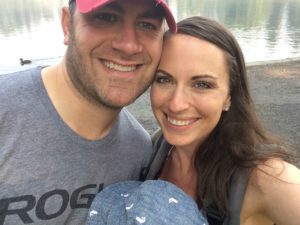 is skiing, snowboarding, and snowshoeing. If you are a beer enthusiast, the Bend Ale Trail hits all the breweries in town. There are so many amazing restaurants in town, wineries just outside of Bend, and plenty of ways for you to indulge.
Even though it took us a few years of living in the Pacific Northwest to get here, Bend did not disappoint and I'm sure that we will be back. It's a great vacation spot whether you're looking for a romantic weekend away or a fun family vacation. We were thoroughly impressed with this oasis in central Oregon!