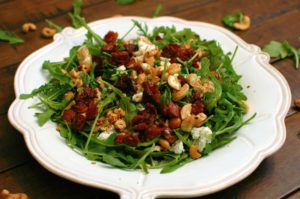 Yes, you read that correctly: candied bacon! Or bacon candy, depending on how you want to look at it. This salad doesn't have many ingredients. But the creaminess of the goat cheese, the peppery arugula, the sweet bacons, and the crunchy cashews come together in the perfect salad.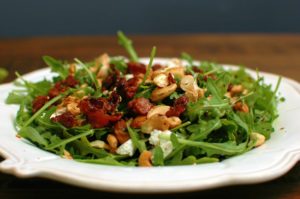 When Kevin and I were still on Active Duty in the Army, we lived in Tacoma, WA to be closer to where we were stationed. There was a place there that we loved to go to for brunch that would serve a simple arugula side salad with it's brunch menu. It was so good! Now that we have two kids and live about 30 minutes from Tacoma, we certainly aren't brunching as often. So I had to recreate the salad at home, as well as take it up a notch.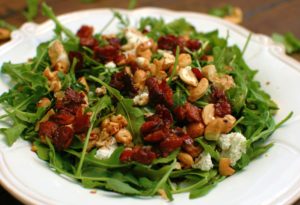 This salad is great for lunch, brunch, or for a simple dinner. I don't blame you if you want to put candied bacon on everything after tasting it on this salad.

Arugula Salad with Candied Bacon and Goat Cheese
Prep time:
Cook time:
Total time:
Serves:
2-4 salad portions
Ingredients
5-6 cups arugula
4 oz. goat cheese
6 slices bacon
1 tbsp. brown sugar
¾ cup chopped roasted cashews
¼ cup balsamic vinegar
3 tbsp olive oil
Fresh ground pepper
Instructions
Dice bacon and put into a hot skillet. When it is almost done cooking, add brown sugar and cook until bacon is done. Set aside and allow to cool.
Place arugula in a large bowl. top with goat cheese and cashews and bacon.
Whisk together balsamic vinegar and olive oil. Drizzle onto salad and toss.
Serve topped with fresh ground pepper.