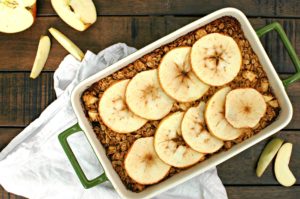 The very first time we took a flight after Lleyton was born, we decided to book a red-eye to Chicago. Some kids do really well on red-eye flights and sleep the entire time. Our then 6-month-old was not one of those kids. I didn't get any sleep the entire flight and by the time we got to my parents' house in Chicago around 7am local time, I was exhausted. We walked into the house and I was greeted by the delicious smell of something baking and knew that I was in for a delicious breakfast. My dad had made baked oatmeal and I had two servings before putting Lleyton down for a nap (and taking a nap myself).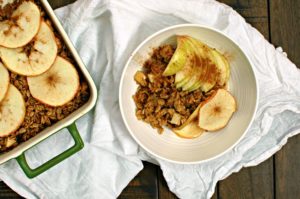 This baked oatmeal is full of fall flavors: apple cider, cinnamon, and browned butter for a wonderful toasty taste. Browned butter is a great addition to just about any dish, sweet or savory, that calls for butter. Browning it brings out the nuttiness of butter and adds that much more flavor to your dish. Just keep an eye on it because butter goes from browned to burned very quickly!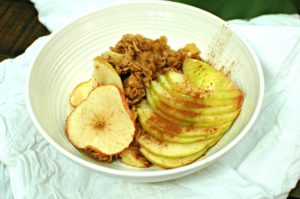 You can make this oatmeal in advance and put it in the oven the morning you plan to enjoy it. Just be sure to leave the sliced apples off the topping until before you bake it, or they will brown quickly! Feel free to top this with a sprinkle of cinnamon sugar, more sliced apples, fresh whipped cream, or even a drizzle of coconut or almond milk for some extra creaminess. This is the perfect breakfast before you go apple picking or to your local pumpkin patch.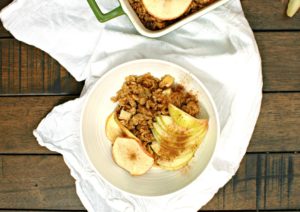 Apple Cider Baked Oatmeal
Prep time:
Cook time:
Total time:
Ingredients
3 cups rolled oats
½ cup packed brown sugar
2 tsp. baking powder
½ tsp. salt
2 tsp. cinnamon
1 tsp. nutmeg
1¼ cups apple cider
2 eggs
2 tsp. vanilla
½ cup (1 stick) butter
¾ cup chopped apples
Sliced apples, for topping (optional)
Instructions
Preheat oven to 350 degrees Fahrenheit.
Place the butter in a small saucepan on the stove and melt. Once melted, reduced heat to low and allow to brown. You can tell when your butter is browned when it begins to smell toasted and nutty and can see brown particles in the butter. Remove from heat and allow to cool.
In a medium bowl, mix together oats, brown sugar, baking powder, salt, cinnamon, and nutmeg.
In a small bowl, whisk together apple cider, eggs, vanilla, and browned butter.
Add wet ingredients to dry ingredients and mix to combine.
Fold in chopped apples.
Spray a baking dish with nonstick cooking spray. There are plenty of round and rectangular dishes that will work, I used a 9 x 7 dish.
Spread oatmeal into baking dish and top with sliced apples, if desired.
Bake for 35-45 minutes until golden brown.
Like what you see? Pin it here!