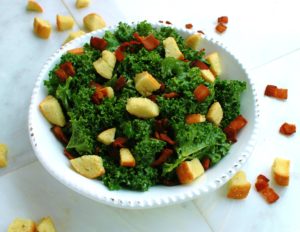 This is the salad for people who say they don't like kale. For a long time, I only enjoyed kale if it was NOT in a salad. I loved and still love it sautéed with a little olive oil, garlic, and salt. I like to chop it up and add it to soups. I didn't think I would enjoy it in salads because it's tougher and slightly more bitter than lettuce.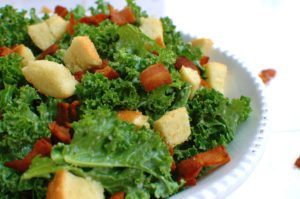 Needless to say, I have come around. This salad was the one that converted me. Every time I go to Costco, I pick up a bad of their 7 Superfoods Salad, which is packed with kale. I also love my Thai kale and Quinoa salad. Now we eat so much kale that even through I grew it in my garden this year, I still find myself picking up a bunch every time I'm at a farmstand or our local farmers market. If I can't use it up before it's going to go back, I'll make kale chips, toss it into smoothies, or blanch and freeze it. Kale just doesn't go to waste in our house.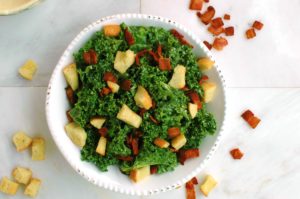 But maybe you're new to kale, or you don't think it belongs in salads. Go ahead and make this recipe and tell me if you still feel this was. The creamy Caesar dressing is rubbed into the kale to make it more tender and fill every bite of the salad with flavor. For good measure, I topped the salad with crispy bacon and garlic bread croutons. Kale may be a health food, but this salad is all about balance.
This salad is perfect for a light lunch or dinner, and because kale is a heartier green, you can dress it the night before and enjoy it for lunch the next day. If you're going to do this, leave the croutons off the salad until right before having it. Nobody likes a soggy crouton.

Kale Bacon Caesar Salad with Garlic Bread Croutons
Prep time:
Cook time:
Total time:
Ingredients
3 cups cubed French bread
3 tbsp. butter, melted
½ tsp. garlic salt
1 cup mayonnaise
½ cup finely grated parmesan cheese
2 tbsp. lemon juice
1 tsp. Worcestershire sauce
2 tbsp. dijon mustard
½ tsp. salt
½ tsp. garlic powder
¼ tsp. ground black pepper
6 slices of bacon, chopped
1 bunch of kale, washed, dried, and chopped (about 8-9 heaping cups chopped)*
Instructions
Preheat oven to 350 degrees Fahrenheit and line a rimmed baking sheet with foil.
Place the cubed bread into a small bowl and drizzle with melted butter. Mix with hands to evenly coat bread. Spread onto prepared pan and sprinkle with garlic salt. Toss with hands.
Bake for 10-15 minutes until golden brown.
Meanwhile, make the dressing. In a small bowl, mix together mayonnaise, parmesan cheese, lemon juice, Worcestershire sauce, mustard, salt, garlic powder, and pepper.
Place the kale into a large bowl and drizzle with half the dressing. Using your hands, massage the dressing into the kale. It's important to coat every leaf.
Top the kale with bacon, croutons, and drizzle with additional dressing as desired. Enjoy!
Notes
* I highly recommend a salad spinner to make sure the kale is dry. IKEA has a great one that is inexpensive.
Like what you see? Pin it here!