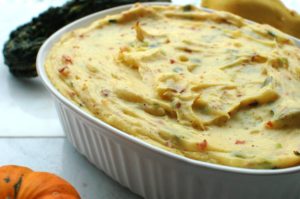 If there is one side dish that Kevin requests more than any other in our house, it's this one. If we're having friends over for dinner he'll offer to grill a main dish and ask for these potatoes. I have been making them for the holidays and for dinner parties for a few years now, and they truly are the best. We like these so much that I typically make this recipe for both Thanksgiving and Christmas dinner. They are equally delicious alongside Thanksgiving turkey as they are along Christmas ham. In the summer we love this side with grilled pork tenderloin. Really, anytime is a good time for these twice-baked mashed potatoes.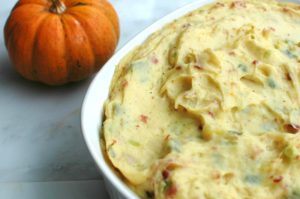 I have made this recipe with both russet potatoes and Yukon gold potatoes and definitely think the Yukon gold potatoes make this dish creamier and highly recommend that you use those. Mixed with bacon, sour cream, cheddar cheese, and green onion, this dish is all the deliciousness of twice-baked potatoes but a little bit easier to make.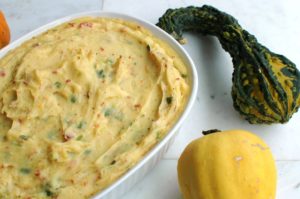 Things Thanksgiving requires a lot of side dishes that require oven time and prep work. These potatoes can be made ahead and refrigerated. You can either let the dish come to room temperature before baking or add 10-15 minutes onto the baking time to make sure they are heated through. I typically make these the day before Thanksgiving, along with my cornbread sausage dressing, cranberry sauce, and pie. The only things I want to worry about on Thanksgiving day are the turkey and the gravy. Maybe some homemade whipped cream if I'm feeling fancy for the pie(s) that I'm making.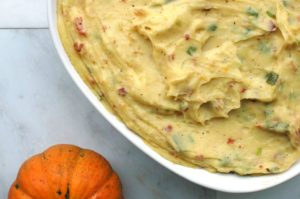 Fun fact, Lleyton calls these "choo choo" potatoes. When he sees me draining the water and the steam billowing up, it reminds him of a train! How adorable is that?

Twice-Baked Mashed Potatoes
Ingredients
4 lbs. Yukon gold potatoes
¾ cup sour cream
4 tbsp. butter
1½ tbsp. garlic salt
½ tsp. ground black pepper
1 bunch green onions, sliced
10 slices of bacon, cooked, drained, and crumbled
1 cup shredded cheddar cheese
Instructions
Preheat oven to 350 degrees Fahrenheit.
Peel and chop potatoes. Place in a large pot and cover with water. Boil until tender and drain thoroughly.
Return potatoes to pot and add sour cream and butter. Using a hand mixer, beat until thoroughly combined.
Add garlic salt, pepper, onions, bacon, and cheese. Mix again.
Spray a large glass or ceramic baking dish with nonstick cooking spray and spread potatoes evenly in dish. I love my Corningware for this, but any baking dish will do.
Bake for 30 minutes until the top begins to turn golden brown*
Notes
*If making this dish ahead and baking the day of service, you may need to add 10-15 minutes onto the cooking time if the potatoes are refrigerator temperature. You can also allow the potatoes to come to room temperature before baking.
Like what you see? Pin it here!