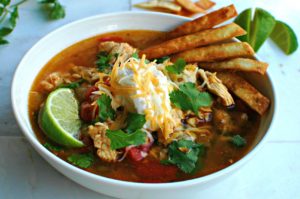 Even though it was just the four of us for Thanksgiving this year, I got an 18.6 lb. turkey to roast. On top of that, Kevin got a few turkey legs to smoke, so we definitely had plenty of turkey. Usually I plan to have leftover dressing, mashed potatoes, etc. with the turkey through the weekend after Thanksgiving, and then come Monday I'm planning what to do with the rest of the turkey. If we still have a lot, I'll freeze some of it, but usually what I make is a big pot of turkey tortilla soup.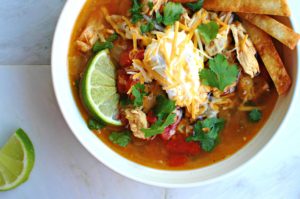 You can certainly make this with chicken as well! And I highly recommend using homemade stock for this soup. I used the turkey stock that I made from our leftover turkey bones, but chicken stock will work just as well. Since it is a broth-based soup, you can definitely taste the difference using homemade stock! I thankfully saved the bones from the turkey legs that Kevin smoked as well, and the flavor that it gave this broth was incredible.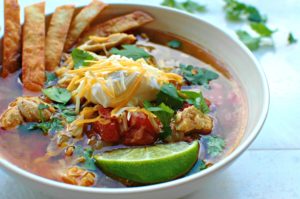 Since I loved the smokey flavor from the broth so much, I added some extra smoked paprika to the soup. Even if you didn't smoke your turkey this year you can still get some of that amazing flavor! This was Kevin's first time smoking turkey and it was so good that I'm trying to convince him that he should smoke the whole turkey next year and I'll just do the sides and dessert.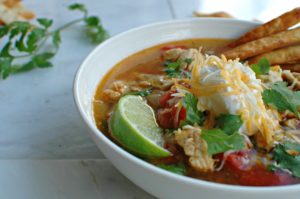 The crunchy tortilla strips on this soup are an absolutely must. They take hardly any time at all and are delicious! I found myself snacking on them as the soup was simmering. I see them going on a salad here in the near future! A little bit of crunch makes this already delicious soup even more spectacular.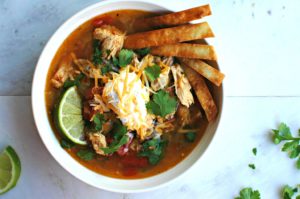 So if your turkey leftovers are already gone, go ahead and make this soup with some chicken! If you still have turkey, you definitely want to make this too; it's my new favorite way to use up turkey leftovers and I plan to get another huge turkey next year to make sure I have enough for at least one batch.

Turkey Tortilla Soup
Prep time:
Cook time:
Total time:
Ingredients
2 tbsp. olive oil
1 medium onion, diced
2 cloves garlic, minced
1 green bell pepper, chopped
2 jalapeños, seeded and finely diced
1 15 oz. can black beans, rinsed and drained
1 15 oz. can corn, drained
1 15 oz. can fire-roasted tomatoes
3 cups shredded cooked turkey
6 cups turkey or chicken stock
1-2 tsp. salt*
¼ tsp. ground black pepper
½ tbsp. cumin
1 tsp. smoked paprika
¼ cup chopped fresh cilantro
8 flour tortillas, cut in half and then cut into strips
Vegetable or canola oil, for frying
Shredded cheese, optional, for serving
Sour cream, optional, for serving
Lime wedges, optional, for serving
Instructions
Heat olive oil in a large pot.
Add onion, garlic, bell pepper, and jalapeños and cook until softened.
Add black beans, corn, tomatoes, turkey, and chicken stock and bring to a simmer.
Add salt, ground black pepper, cumin, and smoked paprika.
Meanwhile, heat vegetable or canola oil in a frying pan. You'll need enough to make sure the bottom of the pan is generously covered by about ¼ inch. Add tortilla strips in batches and flip using tongs when golden brown. They only take a few minutes to cook so keep an eye on them! Place onto a plate lined with paper towels to drain and sprinkle with salt.
Stir in fresh cilantro and serve topped with crunchy tortilla strips, cheese, sour cream, and a squeeze of lime juice, if desired.
Notes
*You may need more or less salt depending on the sodium content of your stock! Taste and adjust to your preferences.