Busy people everywhere love a one dish meal, and I'm no exception. Some one dish meals seem to be lacking to me though. Maybe there aren't enough vegetables in it and I feel I need to add some on the side, or maybe it's another one-pot pasta. While I love to eat pasta and have plenty of recipes for it on the blog, sometimes I'm looking for something different that is still easy and packs in the veggies.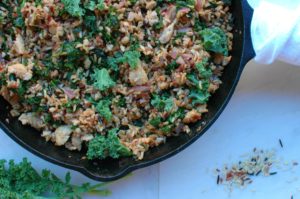 Lately I've become an even bigger fan of my cast-iron skillet, as you can see from the rosemary dijon chicken thighs I posted two weeks ago. I made this dish on Halloween and it came together in less than 30 minutes since I had the wild rice blend already cooked! With two kids ages two and under to wrangle into costumes, I was thankful to have an easy and healthy meal planned. By the way, the boys went as Maverick and Goose from Top Gun and it was ADORABLE. Follow me on Instagram to see the pictures 🙂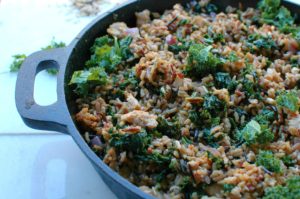 If you have leftovers of this dish, they make a great lunch, but I think you could even have this for breakfast topped with a runny egg! I'll have to make this again soon with the last of the kale in my garden and have leftovers for my breakfast. As it is, Kevin and I each had two servings for dinner and I sent what was left of it for his lunch the next day.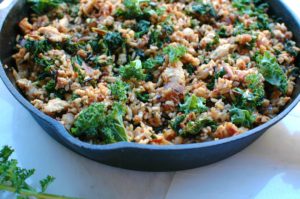 This dish is definitely a winner. If you don't have ground turkey, you can certainly substitute ground chicken or pork. If you substitute ground beef make sure it's 93% lean or drain off the oil after browning or it will be a little too greasy.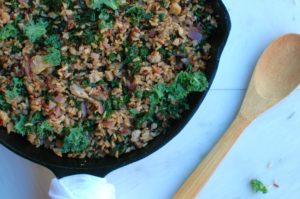 Also, if you don't have a cast-iron skillet you can certainly use a large frying pan. But I highly recommend investing in a cast-iron skillet! There are some more expensive ones out there that are great, but you can definitely get one for significantly cheaper and I promise that once you have one you'll use it all the time.
Turkey, Kale, and Wild Rice Skillet
Prep time:
Cook time:
Total time:
Ingredients
2 tbsp. olive oil
1.5 lbs. ground turkey
1 small red onion, diced
1 large bunch of kale, chopped (about 6-8 cups loosely packed)
3 cups cooked wild rice blend
1 tsp. salt
¼ tsp. pepper
½ tsp. garlic powder
½ tsp. ground thyme
½ tsp. paprika
Instructions
Heat olive oil in a large cast-iron skillet and brown turkey, breaking into pieces as it cooked.
Add onion and cook until translucent.
Add kale and cook until wilted.
Reduced heat to low and stir in rice blend.
Add salt, pepper, garlic powder, thyme, and paprika.
Taste and season as desired.
Enjoy!
Like what you see? Pin it here!