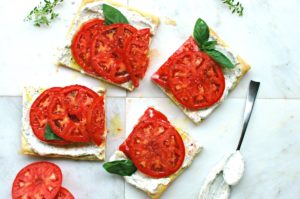 Tomatoes might be my favorite produce of summer. I love summer berries, peaches, and sweet corn, but I'm not sure there's anything better than a vine-ripened summer tomato. This super easy dish is inspired by what I ate for breakfast every single day while I was deployed.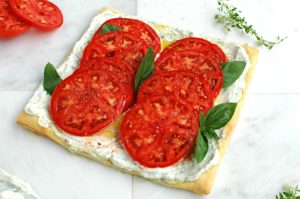 I would wake up early to go to the gym, and then I would have a bagel with cream cheese and sliced tomato, sprinkled with salt and pepper, with a side of fruit. I also had a salad every day for lunch. I'm not sure what it was, but I never got sick of eating those meals, even though I ate them every single day. There wasn't a lot of variety in the meal options where I was, but I was happy to have the options that I did to make sure I was still eating reasonably healthy during what was a very busy six months.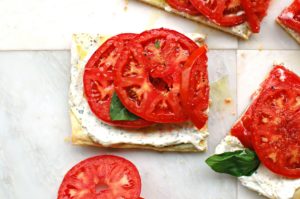 Instead of a bagel now, I'm using puff pastry. Instead of cream cheese, I'm using whipped ricotta with fresh herbs. Top all that with juicy tomato slices that are much fresher than the ones I had in Afghanistan and sprinkle with sea salt and fresh ground pepper. Give it a drizzle of olive oil and you have a delicious treat that's perfect any time of day. I used large beefsteak tomatoes for this and cut it into four pieces, but you could easily use smaller Roma tomatoes, or even halved grape tomatoes if you wanted to cut smaller pieces and serve this as an appetizer.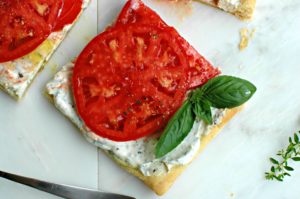 Tomato Tart with Herbed Ricotta
Ingredients
1 cup ricotta cheese
½ tsp. salt
2 tbsp. fresh herbs*
1 puff pastry, thawed
2 large tomatoes, sliced
Olive oil
Sea salt
Fresh ground pepper
Instructions
Preheat oven to 350 degrees Fahrenheit.
In a medium bowl, combine ricotta cheese, ½ tsp. salt, and fresh herbs. Using a mixer, beat until creamy.
Unfold puff pastry and spread with about half of the ricotta cheese mixture.*
Bake 10-15 minutes until edges are golden brown.
Remove from oven and top with remaining ricotta cheese mixture.
Top with sliced tomatoes, drizzle with olive oil, and sprinkle with sea salt and fresh ground pepper.
Slice and serve immediately!
Notes
* I used a mix of basil, oregano, and thyme from my garden but you can use whatever fresh herbs you like!
* I do this because the ricotta cheese keeps the pastry from puffing too much in the middle where the tomatoes will go. I found that when using the whole ricotta cheese mixture in this step, it could spill over the edges or melt too much. Spreading half on the pastry before baking and half afterwards was the perfect solution!