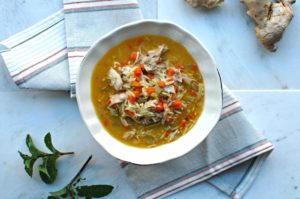 Who doesn't love chicken soup? Especially during this time of year, everyone loves chicken noodle soup. A few weeks ago, the whole family was out for the count with a cold. Everyone was congested and sniffling and I knew I needed something to make us all feel better. For Kevin and I, the spice in this Thai chicken and orzo soup was helpful with clearing our sinuses. For the kids, I simply set some aside before adding the heat so that they could enjoy some too.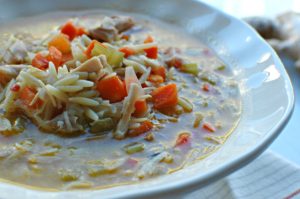 After having this soup, I forget what regular chicken noodle soup tastes like. The subtle flavors of ginger and coconut combined with the heat of the red chili paste make this soup taste like the only way to eat chicken noodle soup. I used orzo pasta in this soup because I liked having smaller noodles, but you can certainly use a bigger noodle if you prefer that.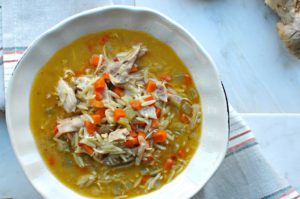 It may be about 40 degrees here with the mild Washington winter weather we have, but I know that all over the country there is a lot of snow and below-freezing temperatures. No matter what the winter weather is, this soup is perfect for this time of year. If you're going to freeze it, just leave out the noodles and add them in after thawing, otherwise they could get a little mushy.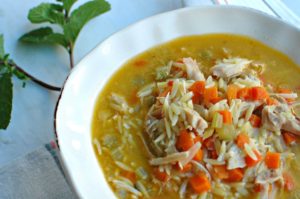 As I'm writing this post and looking through the photos, I wish I had some more of this soup to have for lunch today!

Thai Chicken and Orzo Soup
Prep time:
Cook time:
Total time:
Ingredients
2 tbsp. coconut oil
4 cloves garlic, minced
3 inch piece of ginger, minced or grated
1 medium yellow onion, minced
2 cans full-fat coconut milk
4 cups chicken broth
Juice of 1 lime
3 cups cooked, shredded chicken
1 tsp. salt
¼ tsp. ground black pepper
1-2 tbsp. red chili paste
1 cup dry orzo pasta
Instructions
Melt coconut milk in a large pot. Add garlic, ginger, and onion and cook until fragrant and onions are translucent.
Add coconut milk, chicken broth, lime juice, chicken, salt, pepper, and red chili paste and bring to a boil.
Add orzo pasta. Once it begins to boil again, reduce to a simmer and cook until pasta is tender.
Taste and add more salt or chili paste as desired.
Enjoy!