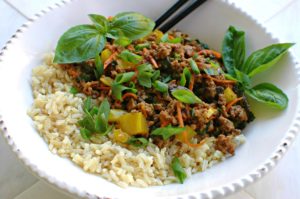 When I was living on my own in Tacoma, I was working long days and running during a lot of the free time that I had as a trained for ultra-marathons. My then-boyfriend, now-husband Kevin was deployed and I was new to Washington State without a lot of friends in the area. I was happy to spend my free time running and exploring the area, but that didn't leave a lot of time for cooking. Even though I loved to cook, my priorities were making sure I refueled with quick and healthy meals. Enter stir-fry.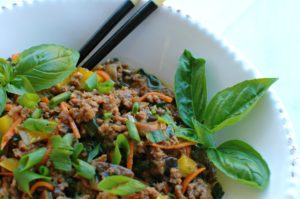 This basically consisted of me preparing a large pot of cooked grains on a Sunday, and serving it with whatever I decided to throw into a frying pan when I got home from work. I didn't meal plan back then like I do now, I just made sure that my refrigerator was stocked with plenty of produce and lean proteins.
A few weeks ago I spent a weekend in Chicago and Michigan with my friends from high school celebrating a bride-to-be with a a bachelorette party and bridal shower and needed to leave my boys with some meals that just required reheating. I know how busy it is to be home with two kids ages two and under and wanted to make it as stress-free of a weekend as possible. Enter this recipe! So easy, so quick, and packed with so much flavor.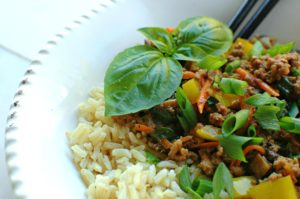 If you plan to make this ahead, I recommend storing the rice and beef separately. Enjoy!

Thai Basil Beef
Ingredients
1.5 lbs. ground beef
3 cloves garlic
1 bunch green onions (about 7), thinly sliced
1 yellow bell pepper, diced
1 cup mushrooms, diced
2 carrots, julienned
½ tbsp. cornstarch
⅓ cup soy sauce
¼ cup rice vinegar
1 tsp. salt
½ tsp. ground black pepper
1 cup loosely packed basil leaves, sliced into ribbons
Cooked rice, for serving
Instructions
In a large pan, brown ground beef, using a spatula to break into small pieces.
Add garlic, green onion, pepper, and mushrooms. Cook until they begin to soften.
Add carrots and cook for 1 more minute.
Add cornstarch and stir to combine.
In a small bowl, mix soy sauce, rice vinegar, salt, and pepper. Add to pan with beef and vegetables.
Add basil and still until just wilted.
Serve over rice, noodles, or whatever your grain of choice is!
Like what you see? Pin it here!