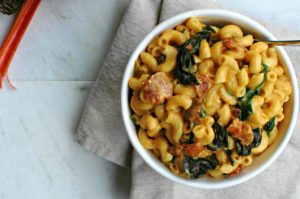 I'm very thankful to have kids that aren't terribly picky eaters. Lleyton doesn't love broccoli and Easton tries to avoid peas, but other than that, they tend to at least taste everything we give them. When it comes to "kid-food," however, neither of them seem to like boxed macaroni and cheese! I used to keep a few boxes of Annie's macaroni and cheese in the pantry when I needed a quick meal for the boys. Adding some spinach or peas to the pasta would round out the meal with minimal time in the kitchen when the boys are hungry. But sadly, they don't like it.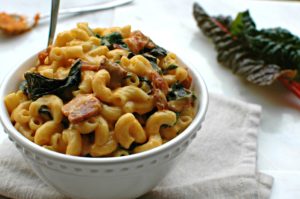 What they do like is craft macaroni and cheese. They want real cheese sauce, bonus points if it's the four cheese macaroni with aged cheddar that you see at restaurants. I'm not sure what gave our boys these high-brow taste buds when it comes to such a quintessential kid food, but at least they will eat this Swiss chard, bacon, and pumpkin macaroni and cheese!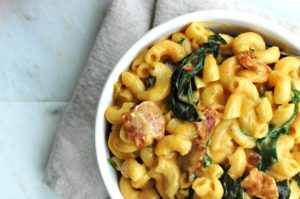 Between adding the Swiss chard to the pasta and the pumpkin that's in the sauce, I can feel good about the extra nutrients that we are getting while still enjoying the bacon and cheese that's in this classic comfort food. This recipe makes a nice large batch of pasta and fills a 13 x 9 pan, making it perfect for leftovers on busy weekday nights.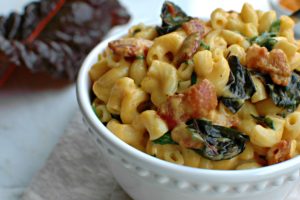 Swiss Chard, Bacon, and Pumpkin Mac and Cheese
Prep time:
Cook time:
Total time:
Ingredients
1 lb. elbow pasta
10 slices of bacon
1 large bunch Swiss chard, stems removed, chopped
2 tbsp. butter
2 tbsp. flour
1 c. canned pumpkin
2.5 cups milk
2 cups shredded cheddar cheese
1 tsp. salt
¼ tsp. ground black pepper
Instructions
Bring a large pot of salted water to a boil and cook pasta according to package directions until al dente. Drain and set aside.
Cut bacon into bite-sized pieces and cook in a large frying pan. Once cooked, remove bacon from pan and put onto a plate lined with paper towels, leaving bacon grease in the pan.
Remove all but 2 tbsp. bacon grease from the pan and add Swiss chard. Cook until tender. Remove and set aside.
Melt butter in pan. Once melted, whisk in flour.
Add milk and pumpkin and whisk again. Cook until the mixture starts to bubble.
Add cheese, salt, and pepper. Whisk and cook until thickened.
Return pasta to the pot that it cooked in. Add bacon and Swiss chard. Stir in pumpkin cheese sauce.
Macaroni and cheese can be eaten at this step. Or you can spread it into a large 13 x 9 baking dish sprayed with non-stick cooking spray. Bake at 350 degrees Fahrenheit for 30-35 minutes until bubbling.